Print Friendly Version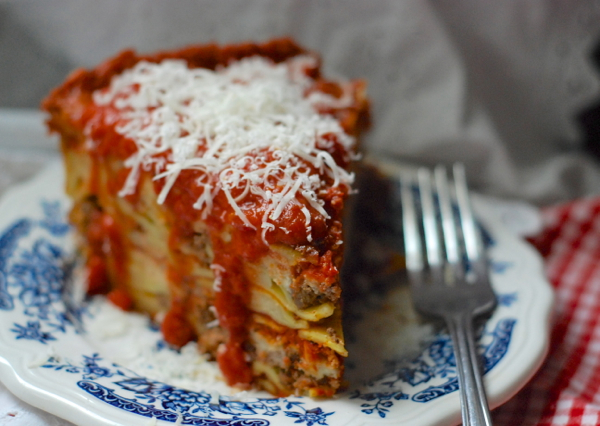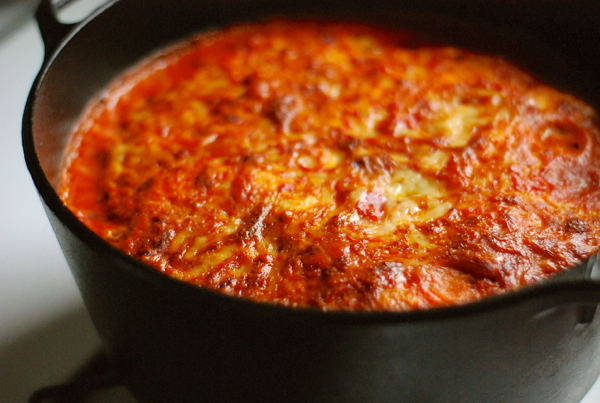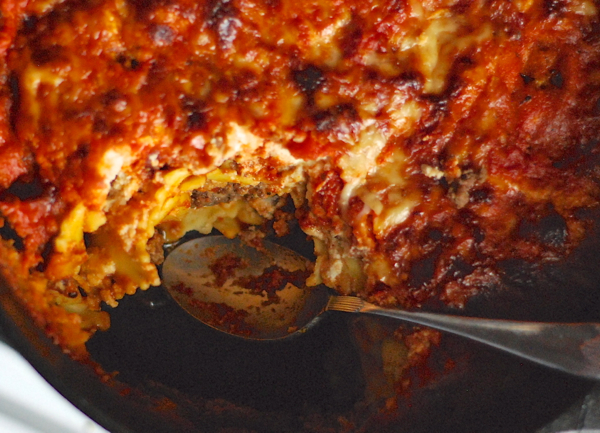 Last night I was in the mood for some Italian comfort food, but I didn't feel like spending hours in the kitchen. What to make? Easy Ravioli Lasagna, of course! It goes together in a flash and tastes every bit as good as a lasagna you'd spend hours making. No need to boil noodles. Just layer everything in the pan, cover and bake! Voila! Cheesy, delicious lasagna is served!
***Note: Use the pre-made, refrigerated ravioli you can find in the produce/deli section at your local grocery store. Dried ravioli won't work for this.
~ preheat oven to 400 degrees F. ~
2 (24 oz.) jars spaghetti sauce (store bought or homemade) + more for topping
1 to 2 lb. lean ground beef and/or ground Italian sausage (browned, drained, and crumbled)
1 Tablespoon onion powder
freshly ground black pepper
1 lb. ***refrigerated cheese ravioli (not dried) I use Buitoni brand, 4 Cheese
8 oz. whole milk ricotta cheese
16 oz. shredded Mozzarella cheese (or diced if using fresh), reserve 1/2 cup for top
2 teaspoons garlic powder OR 2 cloves fresh garlic, minced
freshly grated Parmesan cheese (for serving)
Grease a cast iron Dutch oven (or other large casserole pan) with a little vegetable oil. Pour half a jar of sauce in the bottom in an even layer. Top with half of the ravioli, and half of the browned/drained meat. Sprinkle on half of the onion powder, and a little black pepper.
Mix the ricotta, Mozzarella, and garlic together in a small bowl. Place half of this mixture over the meat in an even layer. Top with another half jar of sauce, rest of the ravioli, rest of the meat, rest of the onion powder, and another little sprinkle of pepper. Rest of the ricotta/mozzarella mixture, another whole jar of sauce, and reserved Mozzarella.
Cover with Dutch oven lid/casserole lid, or foil.
Bake for 40 minutes, covered. Uncover and bake for an additional 15 minutes, or until hot all the way through and cheese is melty and slightly browned. (We like ours a little crunchy around the edges so we let it go a bit longer, but that's just a personal preference.)
Allow lasagna to sit for 10 to 15 minutes before serving. Top with shredded Parmesan cheese and extra heated sauce, if you wish!
Enjoy!
~Melissa
You may enjoy these related posts: