Print Friendly Version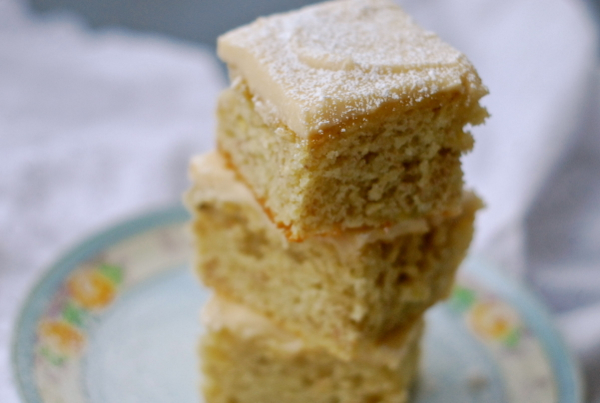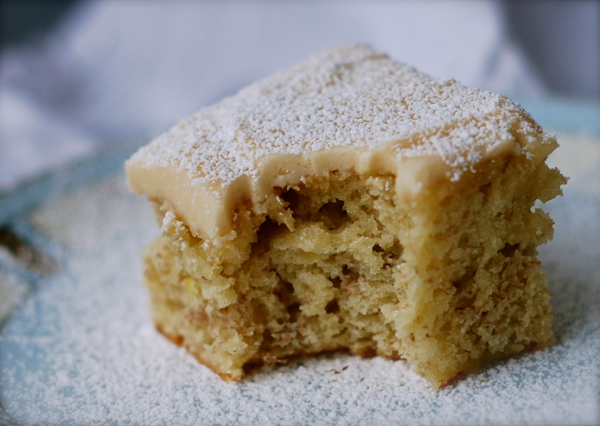 "Two words of advice: small pieces. They are so rich and delicious!" ~ Dana Stenholtz

My dear friend Dana gave me the recipe for these awesome, moist, banana brownies with browned butter frosting. There were some over-ripe bananas on our kitchen counter so Gracie and I decided to do some baking when she got home from school yesterday. You can't really tell by reading the ingredients list how freaking FANTASTIC these little confections are. I mean REALLY good. And, Dana's right. They're rich. Enjoy with lots of milk (or coffee… or tea!) Thanks for the recipe, Dana!
for the banana brownies:
~ preheat oven to 375 degrees F. ~
1 and 1/2 cups sugar
1 cup full fat sour cream
1/2 cup real, unsalted butter (softened)
2 large eggs, lightly beaten
3 or 4 very ripe bananas, mashed well
2 teaspoons pure vanilla extract
2 cups all purpose flour
1 teaspoon baking soda
3/4 teaspoon salt
browned butter frosting (recipe below)
Butter and flour a 9 x 13, glass baking pan.
In a large mixing bowl, combine: sugar, sour cream, butter, eggs, bananas and vanilla. Mix until smooth.
In a separate mixing bowl, combine: flour, baking soda and salt. Mix up with a wire whisk until all ingredients are evenly incorporated.
Add dry ingredients to wet ingredients and mix, using a wooden spoon, until just combined. Spread evenly into prepared pan. Bake 25 to 30 minutes, or just until light golden brown and a toothpick inserted into the center of the brownies comes out with a few moist crumbs on it.
Cool completely before frosting.
for the browned butter frosting:
1/2 cup real, unsalted butter
4 cups powdered sugar
1 and 1/2 teaspoons pure vanilla extract
3 Tablespoons milk
Place butter in a small saucepan. Melt, and stir constantly, over low heat until butter turns amber and becomes fragrant. Transfer to a mixing bowl. Add: powdered sugar, vanilla and milk. Stir until very smooth. Add a little more milk if the frosting seems to thick. Store in an airtight container at room temperature until brownies are cooled completely and ready to frost.
Enjoy!
~Melissa
You may enjoy these related posts: