Print Friendly Version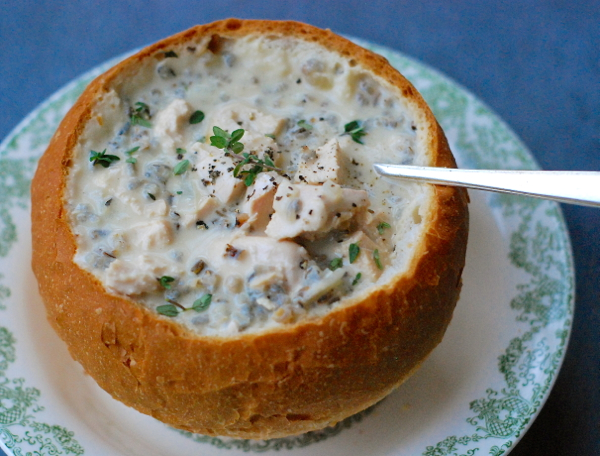 I remember going to the Dayton's downtown Minneapolis when I was a little girl. My grandma would bring me there for a day of shopping and lunch. Back then their restaurant was called "The Bubbling Kettle," and when I was a teenager they changed their name to "The Boundary Waters Cafe." Anyway, I have fond memories of their food. The most wonderful chicken salad sandwiches, desserts, but my favorite was this creamy wild rice soup. Sometimes they added chicken, and sometimes they didn't, but it was always memorable.
I found the recipe for this soup in an old Dayton's cookbook and I couldn't wait to make up a big pot of it for my family. I'm excited to share this delicacy with you!
1/2 cup chopped onion
1 stick (8 Tablespoons) unsalted butter
8 to 10 Tablespoons all purpose flour
8 cups chicken stock/broth
2 to 3 cups cooked wild rice (cooked according to package directions)
1 teaspoon white pepper
2 cups heavy whipping cream
1 cup cream sherry
3 cooked, cubed chicken breasts
bread bowls (optional)
fresh thyme for garnish (optional)
In a large soup pot, saute onion in butter until tender. Make a roux by adding the flour. Whisk it in for 2 to 3 minutes, or until deep amber and fragrant. Add stock, whisking it into the flour mixture until smooth. Heat to boiling. Reduce heat and simmer gently for 20 minutes. Add the cooked wild rice, pepper and cream. Bring to simmer once again. Add sherry and chicken. Heat thoroughly. Serve in small, hollowed out loaves of fresh bread and garnish with fresh thyme, if you wish. Salt and pepper to taste.
Enjoy!
~Melissa
You may enjoy these related posts: