Print Friendly Version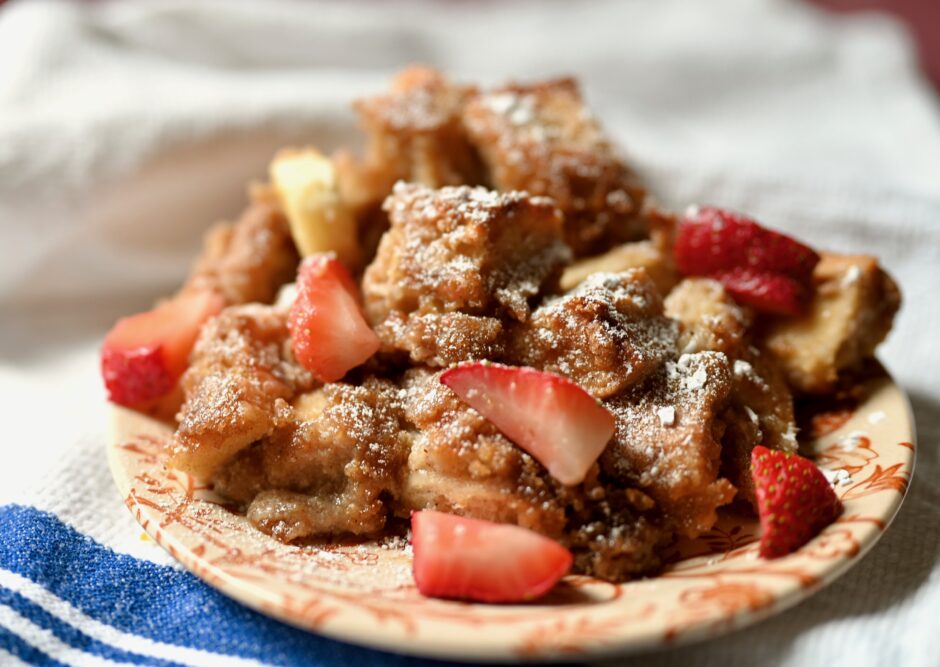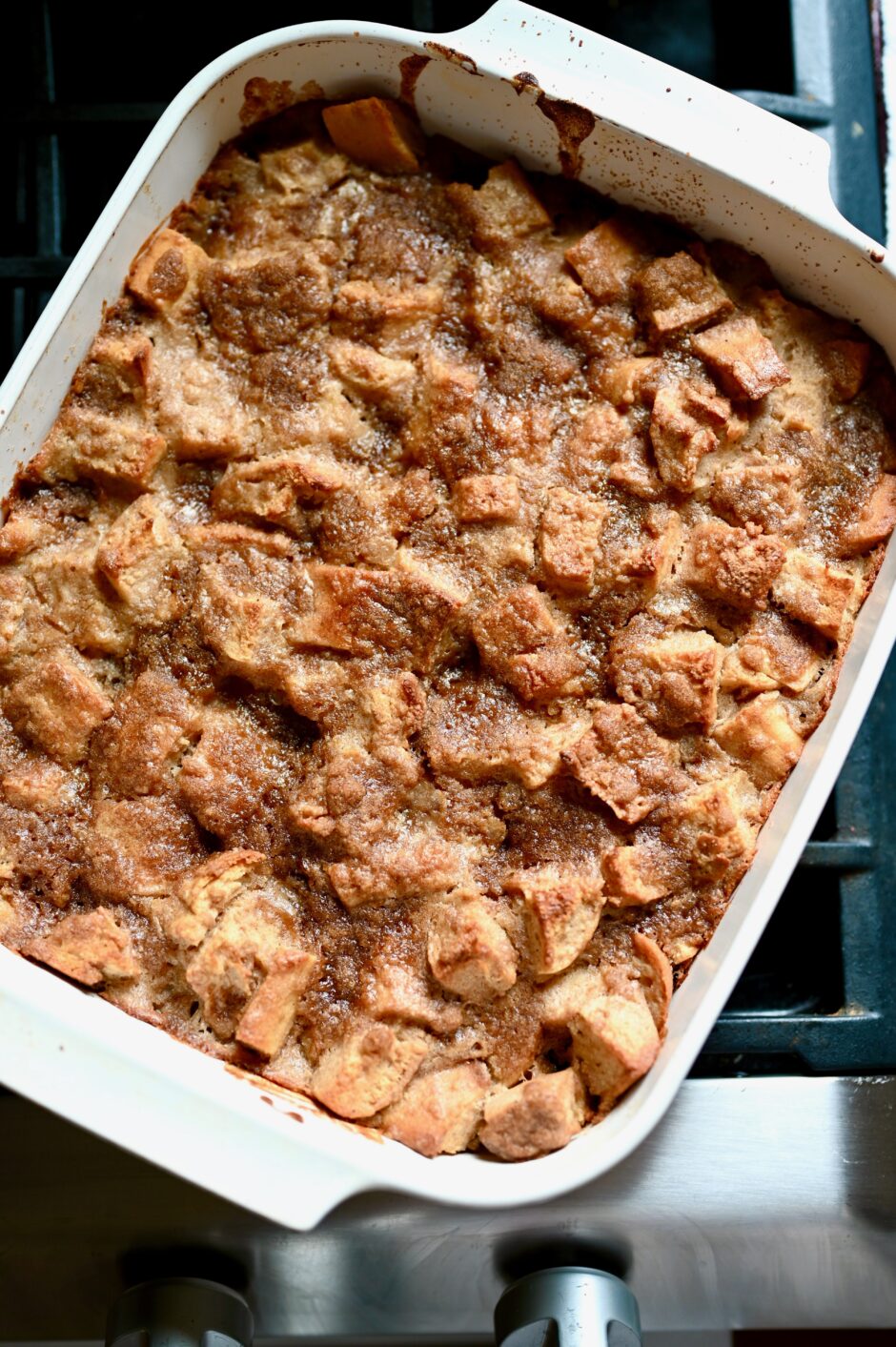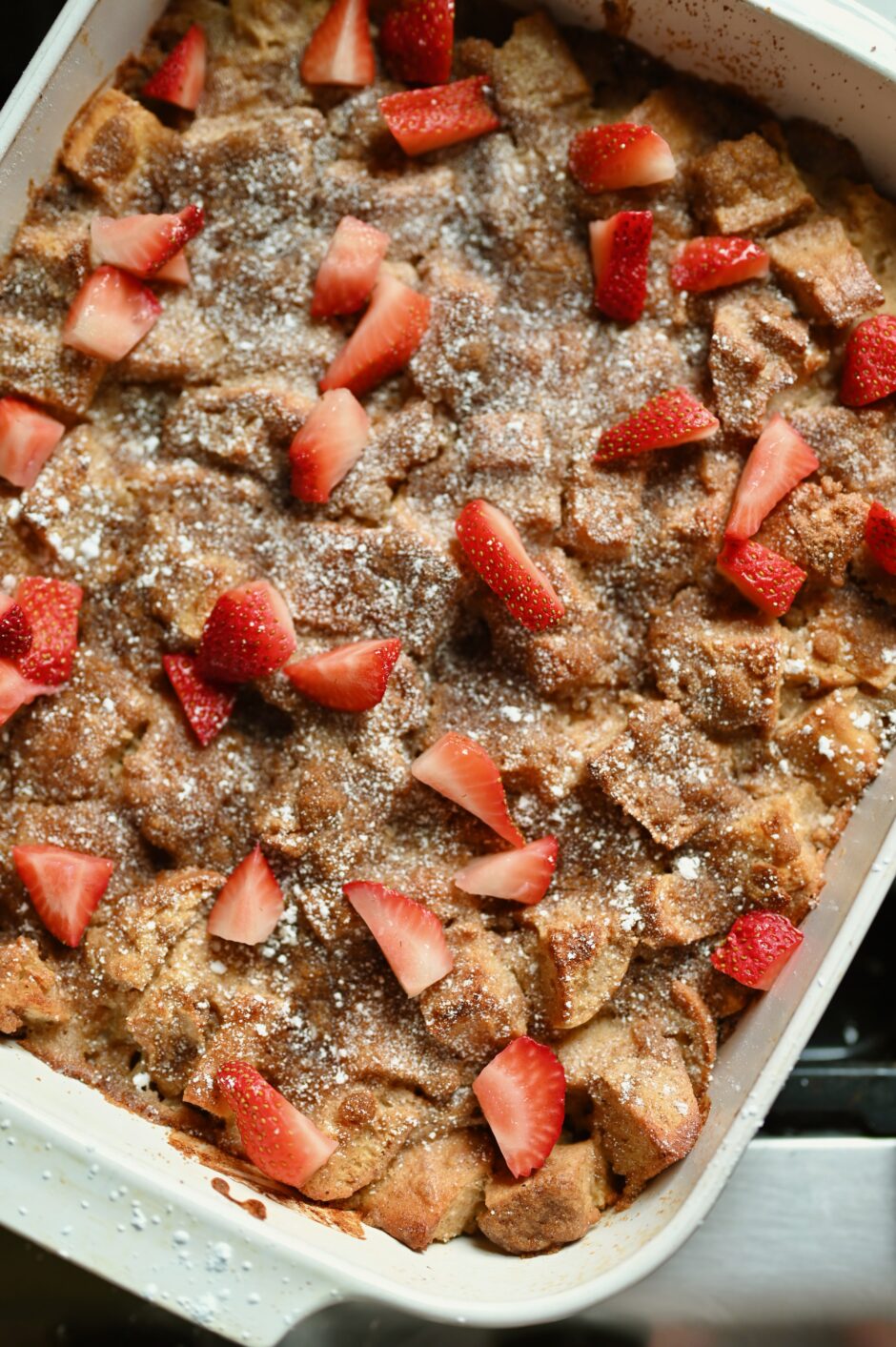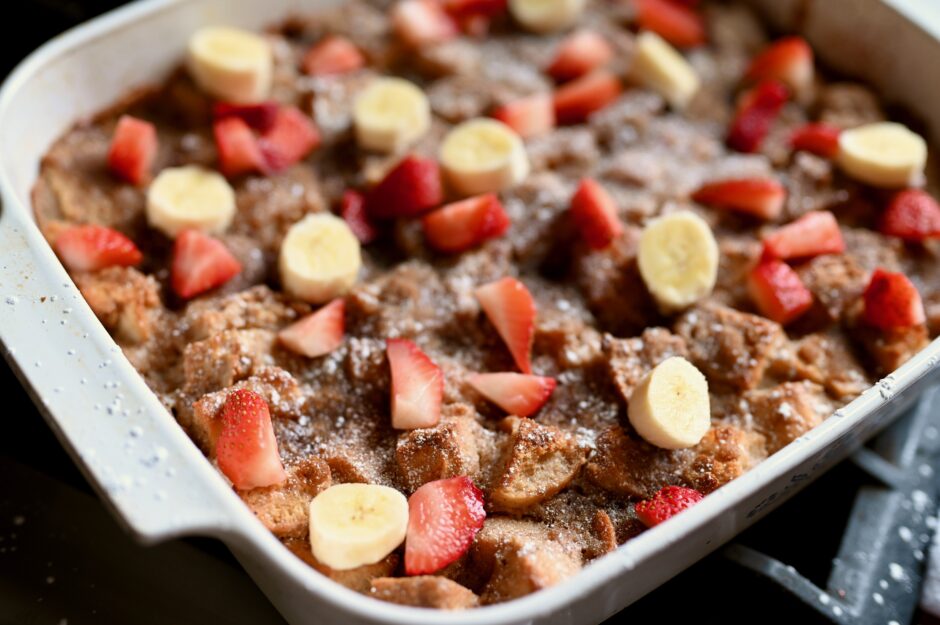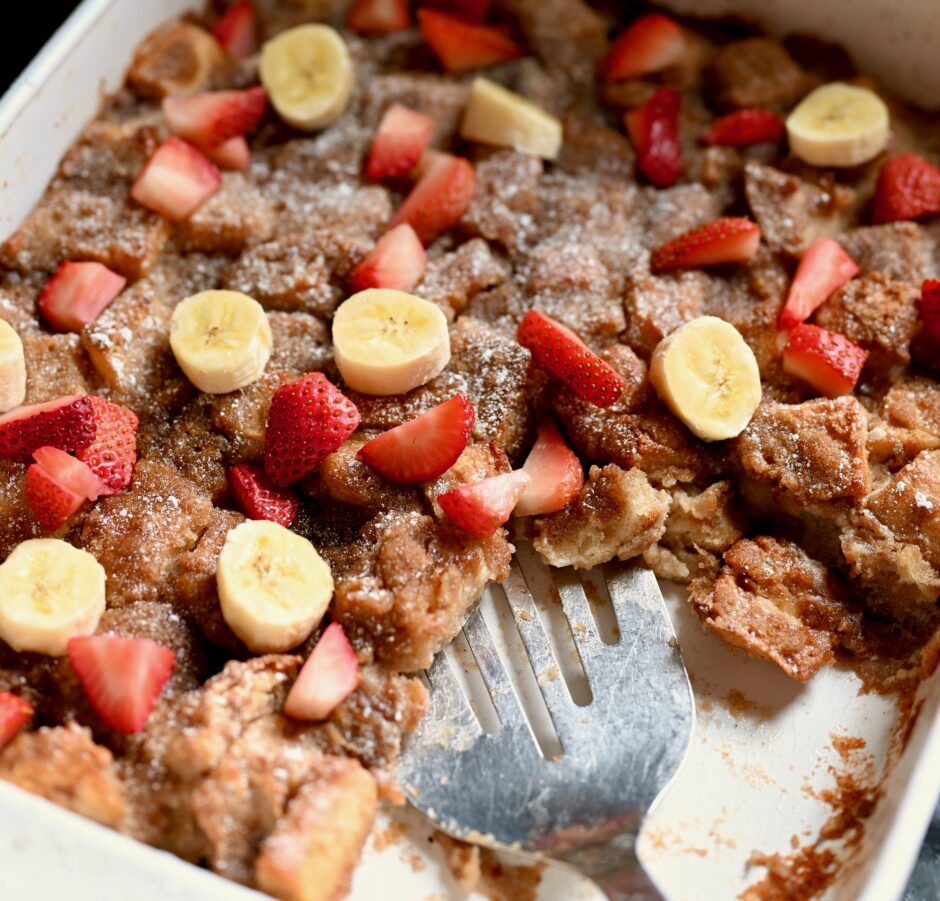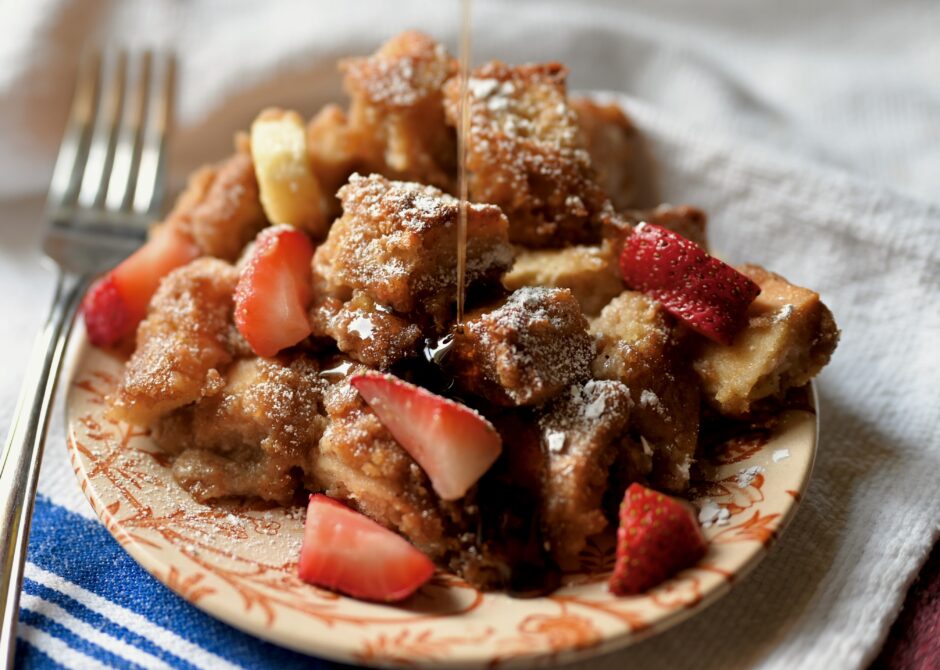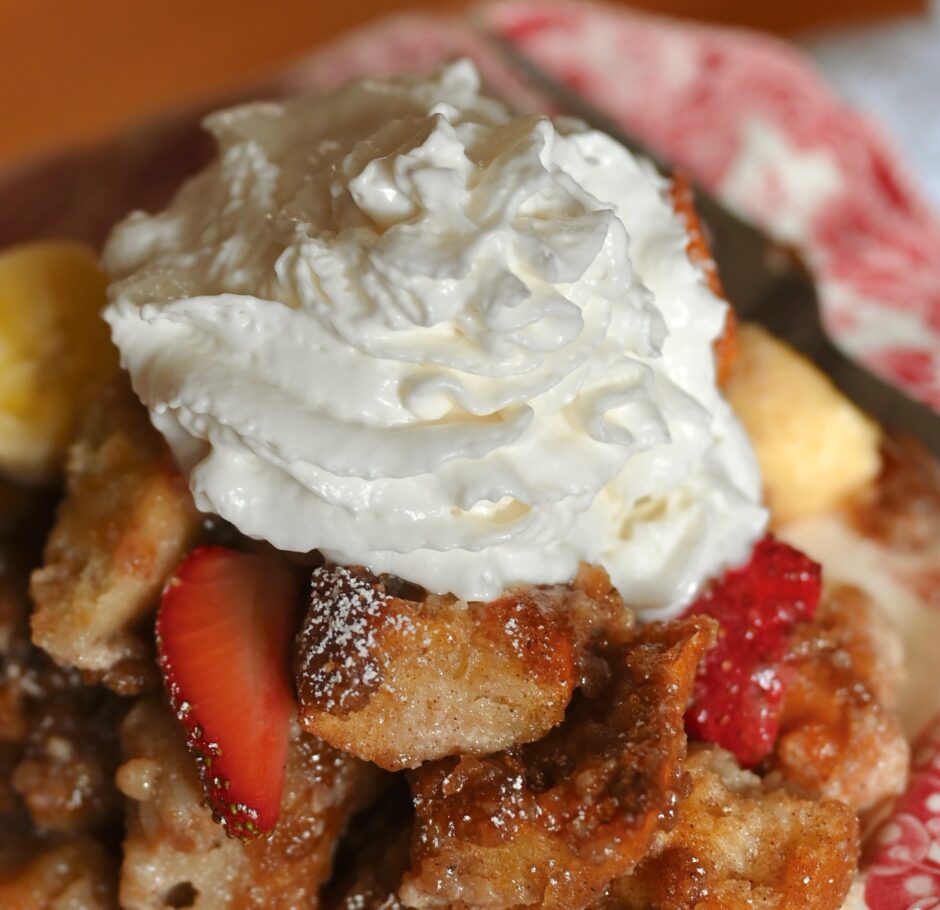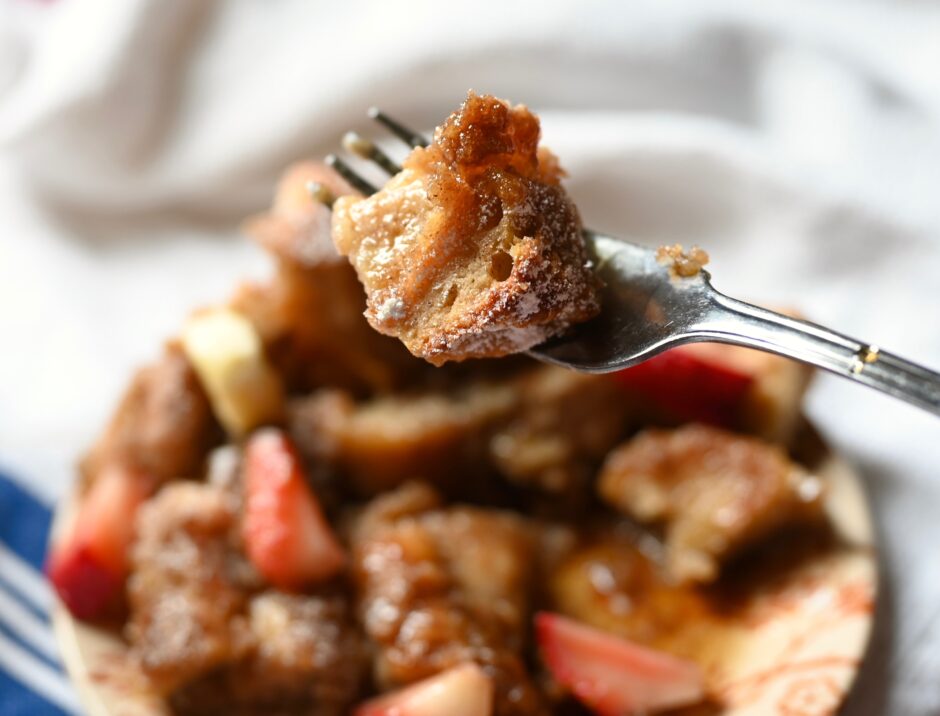 Mmmmm… French toast!
French toast is so good and the perfect addition to weekend brunch. Honestly though, I don't usually feel like making it first thing it the morning so I hardly ever make it.
And then I discovered French toast casserole. French toast casserole is a total game changer.
You can make it the night before and then just pop it in the oven the next morning while your coffee brews. You can make this up the morning you want to eat it too, and it's way easier to make than French toast. Not that it's difficult to make French toast, just kind of time consuming. Like pancakes. With this there's no standing over a skillet. You just mix everything together and bake it. Easy peasy.
We like tofu scramble and vegan sausage with our vegan French toast casserole, which this is. Instead of eggs, it calls for custardy, silken tofu and canned coconut milk for the French toast batter. Mmmmm. It's so, so good, and no weird, egg flavor.
Here's how you make French toast casserole:
1 long, day old (or even a couple days older than day old) baguette
12 oz. firm silken tofu
13.5 oz. canned, full fat, coconut milk
2 Tablespoons cornstarch
1/2 cup sugar
1 Tablespoon pure vanilla extract
2 teaspoons cinnamon
1/2 teaspoon nutmeg
1/4 teaspoon salt
for the brown sugar topping:
1/2 cup brown sugar
1/4 cup all purpose flour
1 teaspoon cinnamon
1/4 cup vegan butter (we use organic Earth Balance)
suggested toppings:
powdered sugar
strawberries, blueberries, or raspberries (or combination of the three)
sliced bananas
pure maple syrup, berry syrup, or lemon syrup
chocolate chips and/or whipped cream (we use coconut Reddi Wip)
orange zest
Cut baguette into 1 inch cubes and place them in a large mixing bowl. Butter a 9″ x 13″ glass baking dish. Make the custard by adding the silken tofu, coconut milk, starch, sugar, vanilla, cinnamon, nutmeg, and salt to the bowl of a large food processor. Process until smooth. Pour the custard over the bread cubes and gently stir so everything is coated completely. Pour into prepared baking dish. Mix topping ingredients together and scatter the topping evenly over the casserole.
At this point you can either cover the baking dish, refrigerate it, and wait until the morning to cook it. Or, you could cook it immediately.
When you're ready to cook it, preheat oven to 350 degrees F. Once oven is preheated, place casserole in oven, uncovered, and bake for 50 minutes or until golden brown, hot, and completely cooked throughout.
Once the casserole is done, plate and serve with any or all of the suggested toppings. This time we did powdered sugar, strawberries, bananas, maple syrup and whipped cream.
Enjoy!
~Melissa
You may enjoy these related posts: