Print Friendly Version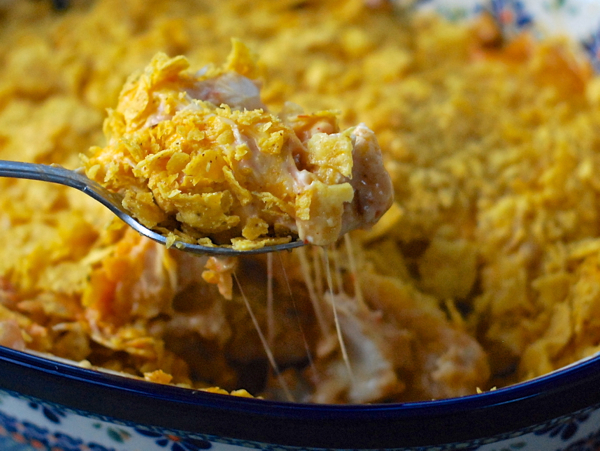 This is ooey, gooey, cheesy comfort food, and it's got a cute name, so I'm hooked. It's not the healthiest recipe in my repertoire, but it's reallllly good! Feel free to use lower sodium ingredients to cut down on salt a bit, and use organic cream soup (or homemade) if you don't want to use Campbell's. I used different Mexican seasonings in this, but you could certainly substitute already made taco seasoning if that's easier. I've made this all sorts of different ways, and it always turns out fantastic!
PS… This is an awesome way to use up leftover chicken or holiday turkey too!
~ preheat oven to 350 degrees F. ~
serves 8 people
4 large, boneless skinless chicken breasts, cooked (approximately 4 to 5 cups)
10 and 1/2 oz. condensed cream of chicken soup, undiluted
1/2 cup sour cream OR plain greek yogurt
1/2 cup chunky salsa (I used homemade, but store bought is fine)
1 teaspoon cumin
1 teaspoon chili powder
1 teaspoon red pepper flakes
1 teaspoon onion powder
8 oz. cheddar-jack cheese (or your favorite) shredded
4 cups crunched up corn chips
taco toppings (shredded lettuce, black olives, sour cream…)
Oil a 4 to 6 quart casserole dish. Cut or shred the cooked chicken breasts into bite size pieces.
In a medium mixing bowl, combine: undiluted cream of chicken soup, sour cream, salsa and seasonings until smooth. Place half of the chicken in the prepared casserole dish. Top with half of the soup mixture followed by half of the cheese and half of the chips. Repeat layers, ending with chips. Bake in preheated oven, uncovered, for 30 minutes or until hot all the way through and bubbly. Plate and serve with your favorite taco toppings and hot sauce.
Enjoy!
~Melissa
You may enjoy these related posts: