Print Friendly Version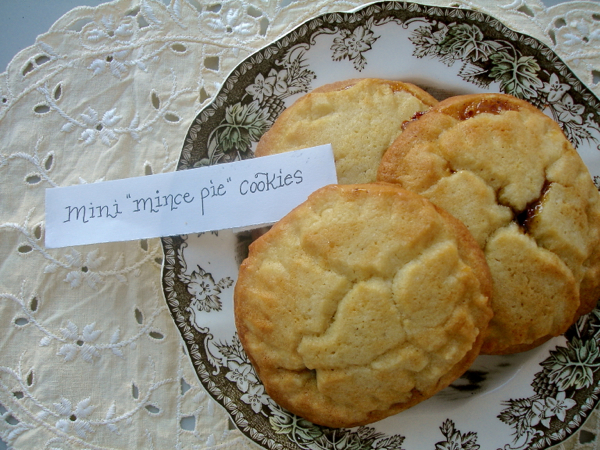 Feel free to use your favorite sugar cookie recipe as the "pie crust" for these adorable mini mincemeat pie cookies!
~ preheat oven to 450 degrees F. ~
2 cups sugar
1 cup butter or shortening
2 large eggs
2 teaspoons pure vanilla extract
5 and 1/2 cups self rising flour
1 cup whole milk
18 oz. jar prepared mincemeat pie filling
Cream sugar and butter/shortening. Beat in eggs and vanilla. Add flour to creamed mixture. Mix in milk. Chill dough in refrigerator for 1 hour.  Roll out dough on a floured surface to 1/8 inch thickness and cut with a round, 2 inch, cookie cutter. Place cookies on a parchment lined  OR greased baking sheet. Top each cookie round with a rounded teaspoonful of mincemeat. Top with a second cookie and crimp the edges together. Bake in preheated oven for 7 to 10 minutes, or until light golden brown. Place cookies on a cooling rack. Makes approximately 35 cookies.
Enjoy!
~Melissa
You may enjoy these related posts: