Print Friendly Version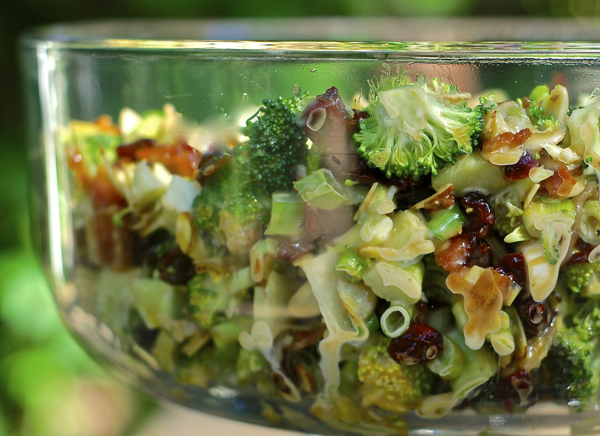 Crunch, crunch, crunch. I'm enjoying a little bowl of this salad as I write to you and post this recipe. OH. MY. YUM.
If you like my traditional Candied Broccoli Salad, you're going to LOVEY DOVEY LOVE my Candied Super Crunch Asian Broccoli Salad. I made some significant changes that transform the classic salad into something entirely new and exciting. This yummy salad is a Chin Deep original so you won't have to worry about bringing the same salad as everyone else to the next potluck, picnic or gathering you attend. Be prepared to share the recipe because you'll get lots of rave reviews and requests!
Get your salad bowls ready, Lovelies! you're in for quite a treat!
for the salad:
~serves approximately 10 people (1 heaping cup per person) ~
10 cups little broccoli florets
1 lb. pepper bacon (or your favorite) fried, cooled completely, and crumbled
8 green onions + green tops, thinly sliced
2 heaping cups dried cherries OR dried cranberries
1 cup unsalted, sliced almonds
Mix all in a large salad bowl, and top with dressing.
for the dressing:
1 cup real mayonnaise (no substitutes)
1/2 cup brown sugar OR coconut sugar
2 Tablespoons seasoned rice vinegar
1 Tablespoon dark sesame oil
1 teaspoon soy sauce
freshly ground black pepper, to taste
Mix all dressing ingredients in a medium mixing bowl and whisk until smooth. Pour over the broccoli salad and mix until thoroughly combined and everything is well coated with the dressing. Cover salad and refrigerate until ready to serve.
Enjoy!
~Melissa
You may enjoy these related posts: