Print Friendly Version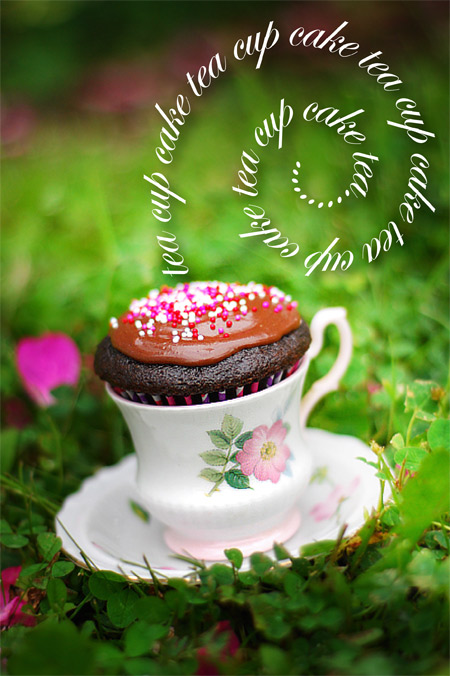 "From the gate to the porch went a wide walk, paved with smooth slabs of dark stone, and bordered with the tall bushes which met overhead, making a green roof. All sorts of neglected flowers and wild weeds grew between their stems, covering the walls of this summer parlor with the prettiest tapestry. A board, propped on two blocks of wood, stood in the middle of the walk, covered with a little plaid shawl much the worse for wear, and on it a miniature tea service was set forth with great elegance. To be sure the teapot had lost it's spout, the cream jug it's handle, the sugar bowl it's cover, and the cups and plates were all more or less cracked or nicked; but polite persons would not take notice of these trifling deficiencies, and none but polite persons were invited to this tea party." ~Louisa May Alcott, Under the Lilacs
Teacup Cake
2 cups sugar
1 and 3/4 cups flour
3/4 cup good quality, unsweetened cocoa powder
1 and 1/2 teaspoons baking powder
1 and 1/2 teaspoons baking soda
1 teaspoon salt
2 large eggs
1 cup espresso or double strong coffee
1/2 cup canola or light olive oil
2 teaspoons vanilla extract
1 cup milk
1. Heat oven to 350°F. Line 30 cupcake tins with paper liners.
2. Stir together sugar, flour, cocoa, baking powder, baking soda and salt in large bowl. Add eggs, coffee, oil and vanilla; beat on medium speed of mixer 2 minutes. Stir in milk (batter will be thin). Pour batter into prepared cups.
3. Bake 20-25 minutes or until wooden pick inserted in center comes out clean. Cool 10 minutes; remove from pans to wire racks. Cool completely.
Frosting
1/2 cup (1 stick) butter
2/3 cup good quality unsweetened cocoa powder
3 cups powdered sugar
1/3 cup extra strong coffee
1 teaspoon vanilla extract
Melt butter. Stir in cocoa. Alternately add powdered sugar and coffee, beating to spreading consistency. Add small amount of milk, if needed. Stir in vanilla. About 2 cups frosting. Frost teacup cakes, place in teacups. Add sprinkles or whatever decoration you desire. Serve. These make a beautiful sweet course for a formal afternoon tea.
~Melissa
You may enjoy these related posts: