Print Friendly Version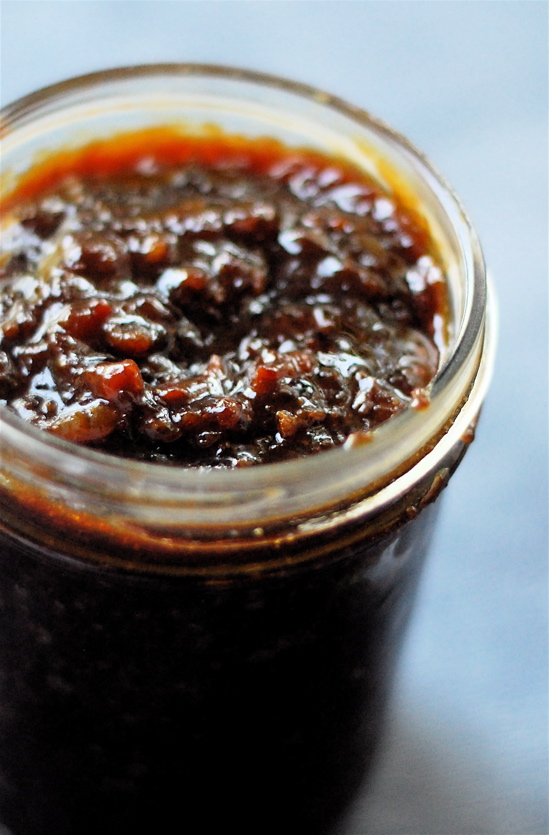 There was this whole "bacon jam" frenzy a couple years ago that I completely missed. I planned on buying jars of  this ambrosia for my many bacon-loving friends but that never actually happened. I recently came across a very old post-it to myself  while perusing my blog files that simply said "bacon jam" on it. I decided to look up a few recipes and then, in the end completely change them to make something uniquely MINE called bacon jam. Well, here it is!
1 and 1/2 lb applewood smoked bacon
1 Tablespoon butter
1 large onion, chopped
1/2 cup sugar
2 Tablespoons dark corn syrup
4 garlic cloves, minced
2 teaspoons smoked paprika
1 teaspoon chili powder
1 teaspoon ground ginger
1/2 teaspoon sweet curry powder
1/2 teaspoon cinnamon
dash of cloves
1 teaspoon prepared yellow mustard
2/3 cup strong brewed coffee
1/3 cup raw apple cider vinegar
1 shot bourbon
3 Tablespoons maple syrup
2 Tablespoons Louisiana Hot Sauce
salt and pepper to taste
Render bacon in a large, heavy skillet on medium-high heat for 10 minutes. Remove meat with a slotted spoon, and transfer to a paper towel-lined plate. Drain all but 2 Tablespoons of the bacon grease. Add butter to skillet. Melt while scraping up brown bits from bottom of pan. Add onion, and sugar. Stir and cook over medim-low heat for 15 minutes. Add garlic, dark corn syrup and all spices. Cook for 5 more minutes, watching carefully and stirring so the mixture doesn't burn. Add coffee, vinegar, bourbon, maple syrup, hot sauce, salt and pepper. Stir until evenly combined. Add bacon back to skillet. Cook on low heat, uncovered for one hour, stirring occasionally. Remove from heat. Cool for 20 minutes. Pour into a food processor and pulse until consistently chunky. Cool and skim off the fat. Spoon into a one pint canning jar, and cover tightly. Store in refrigerator until ready to use. You may need to let the portion of bacon jam that you'd like to use for your recipe set out at room temperature for 15 minutes before using to make it more spreadable.
Lovely in place of bacon on a BLT, drizzled over your breakfast eggs, add a spoonful to your pancake batter, as a chutney or make a peanut butter and bacon jam panini!
Enjoy!
~Melissa
You may enjoy these related posts: