Print Friendly Version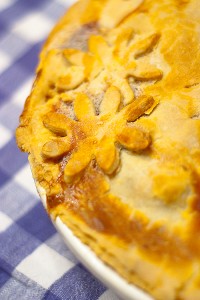 "Some dishes are of such indisputable excellence that their appearance alone is capable of arousing a level-headed man's degustatory powers. All those who, when presented with such a dish, show neither the rush of desire, nor the radiance of ecstasy, may justly be deemed unworthy of the honors of the sitting, and its related delights."
~Jean-Anthelme Brillat-Savarin
This is the perfect meal for a cool autumn day.

~Savory Beef & Cognac Pie~
Serves 4-6
First, make my perfect pie crust.
For the filling:
5 Tablespoons olive oil
1 medium onion, chopped
3 shallots, chopped
2 cloves garlic, minced
2 lb chuck arm roast, cut into 1 and 1/4 inch chunks
5 Tablespoons all purpose flour
2 Tablespoons butter
1/4 cup cognac
3 Tablespoons Worcestershire sauce
3 cups hot beef stock or broth

salt and freshly ground black pepper
1 teaspoon dried thyme

1/2 teaspoon allspice

Heat 3 Tablespoons olive oil in a heavy bottomed pan and saute onion and shallots until nicely golden. Add garlic and cook an extra minute. Remove from heat and set aside. Heat remaining 2 Tablespoons olive oil in a nonstick frying pan. Blot meat pieces until well dried. Toss in flour and fry in oil in 2 or 3 batches, until browned. Add beef to the onion mixture. Add the butter and cook until it melts. Add cognac. Cook until it evaporates. Add Worcestershire sauce. Cook for 2 minutes. Add 2 cups of the hot broth. Bring to boil, and season with salt, pepper, thyme and allspice. Simmer, uncovered for 30 minutes, stirring occasionally. Add the last cup of hot broth. Cover, and simmer on burner's lowest setting for an hour, stirring occasionally until the meat is soft and the gravy is thick. Adjust liquid as needed. When done, allow to cool slightly.
Preheat your oven to 350 degrees F. Divide dough into two, one slightly larger than the other. Roll out larger portion on floured surface, until 1/8 inch thick. Place in a 10 inch pie plate, flattening against side of plate. Spoon in filling. Trim the dough so you have a 1 inch edge. Roll out second piece of dough like you did the first. Place over top of pie. Flute edges to seal in filling. Decorate top of pie with pastry cutouts from leftover crust if you wish. It is not necessary to vent this pie as you would a fruit pie.
Make a wash using 1 egg yolk and 1 teaspoon milk. Brush over pie Bake for 45 minutes, until pastry is crisp and a deep golden color. Remove from oven and cool slightly before serving.  I serve this pie with roasted red bliss potatoes, and a crisp spring green salad.
Enjoy!
~Melissa

You may enjoy these related posts: