Print Friendly Version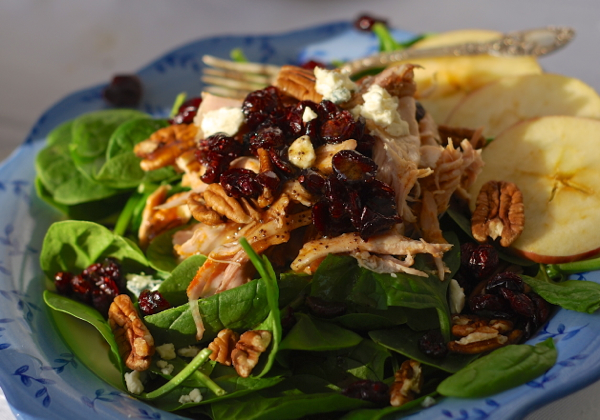 After yesterday's eating frenzy, and this morning's leftover turkey dinner sliders, I decided to make something healthy for lunch. Are you thinking the same thing? Then this Thanksgiving Leftovers Turkey Salad is for you.
1 large handful baby spinach or mixed spring greens
2 Tablespoons crumbled bleu cheese, feta or chevre
1/4 cup pecans, walnuts or almonds
6 oz shredded, cooked turkey (cold or warmed)
1/4 cup craisins, pomegranate seeds or cranberry sauce
1/4 cup stuffing or croutons (optional)
a few slices of fresh apple or pear
3 Tablespoons (or more) homemade apple cider poppy seed vinaigrette
Place all ingredients in a large salad bowl in order listed.
Enjoy!
~Melissa
You may enjoy these related posts: