Print Friendly Version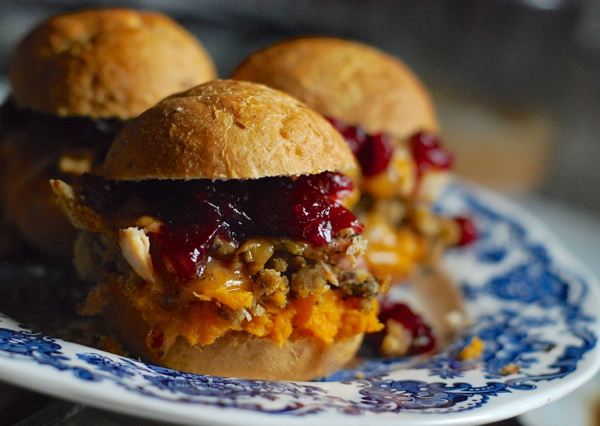 I've had these every day for breakfast since Thanksgiving. They're soooo good! Today I'm making soup with what's left of the turkey. What's your favorite way to use your Thanksgiving leftovers?
for 3 sliders:
3 small dinner rolls, split, warmed and buttered
1/4 cup mashed sweet potatoes or russet potatoes, warmed
1/4 cup stuffing/dressing, warmed
shredded leftover turkey, warmed
1/4 cup homemade turkey gravy (or more)
1/4 cup cranberry sauce (or more)
Dijon mustard, to taste (optional)
freshly ground black pepper
Warm up your ingredients in the microwave. Butter the split rolls and spread them with some Dijon mustard (if you like.) Stack sliders in the order that the ingredients are listed above. Drench them in gravy and eat them with a fork, if you like.
Enjoy!
~Melissa
You may enjoy these related posts: