Print Friendly Version
"The best kind of rain, of course, is a cozy rain. this is the kind the anonymous medieval poet makes me remember. The rain that falls on a day when you'd just as soon stay in bed a little longer, write letters, or read a good book by the fire, take early tea with hot scones and jam and look out the streaked window with complacency." ~Susan Allen Toth England For All Seasons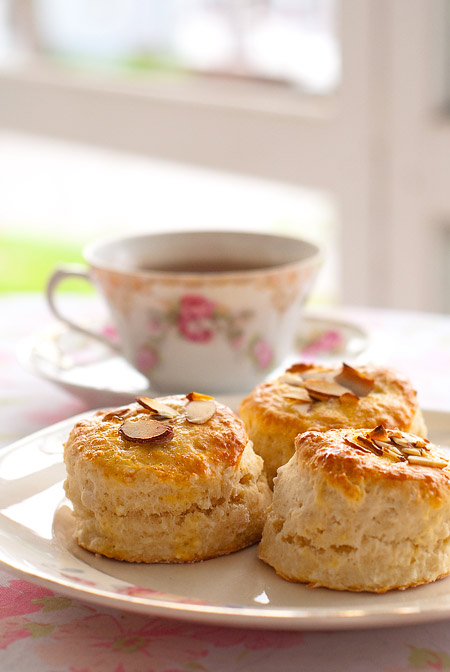 Today I'm making a batch of my English scones and having a little tea party with my daughter Andrea. It's the perfect "cozy rain" kind of day that calls for tea and scones. Gracie is also a scone connoisseur and will appreciate a scone or two with a mug of rosepetal tea for her after school snack. This is the recipe I used when I worked at the tearoom, and I've made it so many times it's committed to memory. I hope you get to love this particular scone recipe so much that at some point you won't need to look at the recipe either. My favorite way to make these is with dried black currants baked inside.  When they're ready to serve I slather them with Devonshire cream, blackberry jam and make a pot of Keemun tea. They're perfect.
~Melissa's English Scones~
Preheat oven to 450 degrees F.
5 cups all purpose, unbleached flour
1 cup sugar
1 teaspoon salt
2 Tablespoon + 1/2 teaspoon baking powder
2 teaspoons baking soda
1/2 cup +2 Tablespoons real butter
2 large eggs
1 and 1/2 cups buttermilk or half & half
1 and 1/2 cups dried currants (or any other dried fruit)
1 teaspoon pure vanilla extract
1 egg white for wash
Mix dry ingredients together. Cut butter into flour mixture. Add currants. In a medium bowl, combine: eggs, buttermilk, and vanilla with a wire whisk until mixed well. Add to dry ingredients and mix with a wooden spoon until nearly combined. Be careful not to over-handle scone dough as it will cause your scones to become tough. Knead 15 turns. Turn out onto a well floured surface. Press dough to about 1 inch thickness. Cut out scones with a biscuit cutter. Place on two large baking sheets, 2 inches apart. Brush tops with egg white and sprinkle with a little sugar if desired. Bake in preheated oven for 12 minutes, or until scones begin to brown (watch them carefully.) Cool for 3 minutes before serving.
Enjoy!
~Melissa
You may enjoy these related posts: