Print Friendly Version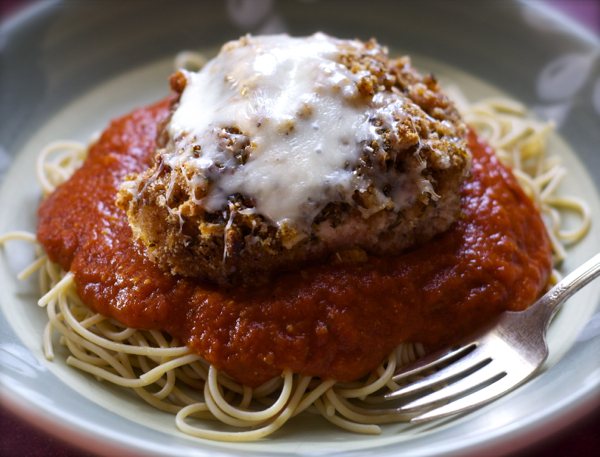 This is an awesome recipe for when you're in a hurry to get dinner on the table and for when you're craving something saucy and Italian. I always need a little protein with my pasta, and the addition of chicken is so much better than just adding a pound of ground beef to the sauce (well, in my opinion anyway.) Just add a little tossed side salad and you have dinner. Buon appetito!
~ preheat oven to 375 degrees F. ~
serves 4 hungry people
4 large boneless skinless chicken breasts
1/2 cup real moyonnaise
1 and 1/4 cups dry Italian bread crumbs
1 teaspoon onion powder
1/2 teaspoon garlic powder
1 28. oz can crushed tomatoes
1/4 cup tomato paste
1/4 cup dry red wine
1 cup shredded mozzarella
1/4 cup grated Parmesan cheese
salt and pepper to taste
1 lb. spaghetti noodles
2 Tablespoons extra virgin olive oil
Prepare spaghetti noodles according to package directions for al dente pasta. Drain, toss with the olive oil. Cover and set aside until ready to serve.
If chicken breasts are frozen, thaw them first. Blot chicken pieces dry, using a paper towel. Place the mayonnaise on a plate. Place the breadcrumbs, onion powder and garlic powder on a separate plate and mix up the dry ingredients so they're evenly incorporated. First roll the chicken pieces in the mayonnaise, then coat them with the dry ingredients so they're completely covered. Place the coated chicken pieces in a glass baking dish. Bake for 20 minutes in the preheated oven (or just until chicken is about 5 minutes away from being completely done.) Divide the mozzarella cheese into 4 portions and sprinkle over the 4 chicken pieces. Return to oven and cook an additional 5 minutes, or just until chicken is done and the cheese is melted.
While the chicken is cooking, place the crushed tomatoes, tomato paste and wine in a medium size saucepan. Whisk together until smooth. Cook until sauce is slightly reduced and heated through. Cover until ready to serve.
To plate: Place some noodles in each of 4 individual serving-size pasta bowls. Top pasta with some of the sauce and a chicken breast. Sprinkle Parmesan cheese over. Salt and pepper to taste.
Enjoy!
~Melissa
You may enjoy these related posts: