Print Friendly Version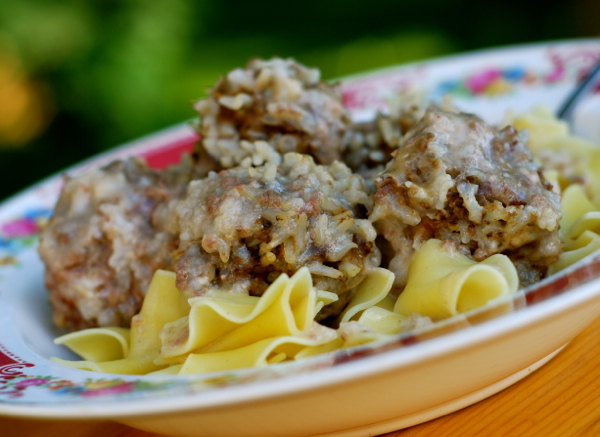 Tender, rice-filled, beef meatballs in a rich, creamy, sauce! This is an old, comfort food recipe that was common in my house growing up. I know a lot of people are used to porcupine meatballs made with tomato sauce, but we like the creamy sauce even more!
These little meatballs look like little porcupines when they're done cooking because some of the rice pops out of the surface of the meatballs. Cute, huh? Yeah, they're made of beef, not porcupines. Just in case the name scared you. Hee hee.
I have adapted the recipe for the slow cooker. So now you can enjoy this yummy dish any night of the week. It's so easy to prepare!
PS: If you don't like cream of mushroom soup, you can substitute any cream soup of your choice!
makes 8 servings
2 lb. lean ground beef
3/4 cups dry bread crumbs OR Panko crumbs
1/4 cup finely chopped onion
1/4 cup finely chopped green bell pepper
1 cup uncooked white rice (not "quick cooking")
2 teaspoons seasoned salt
1 teaspoon garlic powder
1/2 teaspoon freshly ground black pepper
1 large egg, lightly beaten
2 (10 and 3/4 oz.) cans condensed cream of mushroom soup
2 cups 2% or whole milk
2 Tablespoons Worcestershire sauce
Grease a 4 to 7 quart slow cooker with vegetable or peanut oil (don't use olive oil for this or it will burn.)
In a large mixing bowl, combine the ground beef, bread crumbs, onion, green pepper, rice, seasoned salt, garlic powder, pepper, and egg. Mix well, using hands. Shape into approximately 30 to 35 meatballs (1 and 1/2 inches in diameter.)
Place meatballs in prepared slow cooker/Crock Pot. You can stack them if you have more than one layer of meatballs.
In a separate bowl, combine: undiluted cream soup, 2 cups milk, and Worcestershire sauce. Whisk until smooth. Pour over meatballs. Don't stir. Cover and cook on LOW for 7 to 8 hours, or HIGH for 4 to 5 hours. Cook just until meatballs are cooked all the way through and rice is tender.
Gently remove meatballs from slow cooker, using a slotted spoon. Place them in a covered casserole bowl to keep them warm. Whisk the sauce in the slow cooker. Return meatballs to cooker. Serve meatballs and sauce over egg noodles or mashed potatoes. The sauce makes a wonderful gravy!
Enjoy!
~Melissa
You may enjoy these related posts: