Print Friendly Version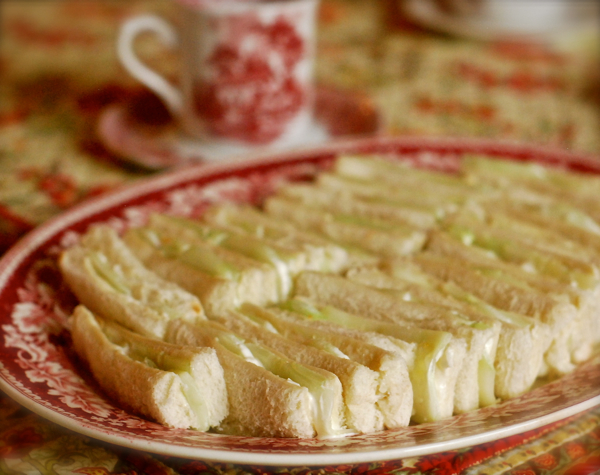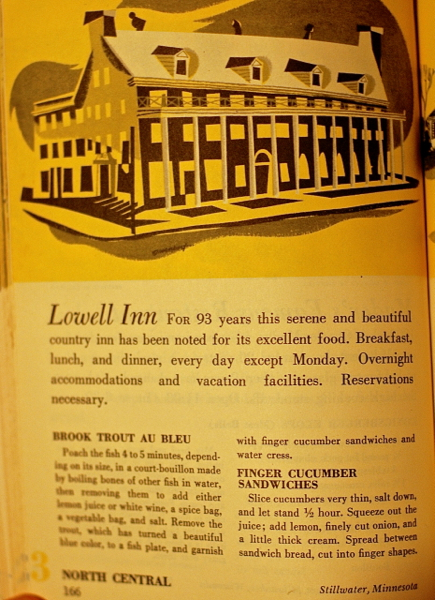 I've been a long time fan of the historic Lowell Inn located in downtown Stillwater Minnesota. Although I haven't visited in years, and the place has changed hands since I last enjoyed tea there, I have many fond memories. I understand that these delicious tea sandwiches are not still a part of their afternoon tea repertoire, so those of you who took tea there 25 years ago or more, make up a batch of these classic treats and cook up a memory while doing so!
A friend of mine used to work at the Lowell Inn, and she shared this recipe with me. Just recently I found it in a vintage cookbook and decided it was time to share the recipe here in this space. They're so good, and my tea guests always approve and ask me to share the recipe!
~ Lowell Inn Cucumber Tea Sandwiches ~
1 to 2 large cucumbers, peeled and sliced very thin
salt
1 long loaf white pullman (sandwich) bread
juice of one lemon
1/4 cup finely chopped onion
1 cup unsweetened whipped cream OR Devonshire cream thinned with a little heavy whipping cream (I used THIS)
Peel cucumbers and slice very thin. Lay them out in a single layer on paper towels. Salt cucumbers and allow them to sit for 30 minutes. Pat each cucumber slice dry.
In a small bowl, add: the juice of one lemon, the finely chopped onion, and the cream. Mix well. Thin as needed. Spread on one side of each piece of bread. Place cucumber slices on half of the bread pieces and top with the other prepared bread pieces. Using a chef knife, remove the crusts of each sandwich and cut each sandwich into 3, long "finger" shaped sandwiches. Place on a pretty serving platter as you work. Cover sandwiches with a slightly damp flour sack towel or paper towel and place in refrigerator until ready to serve. Serve sandwiches within 2 hours of making.
Enjoy!
~Melissa
You may enjoy these related posts: