Print Friendly Version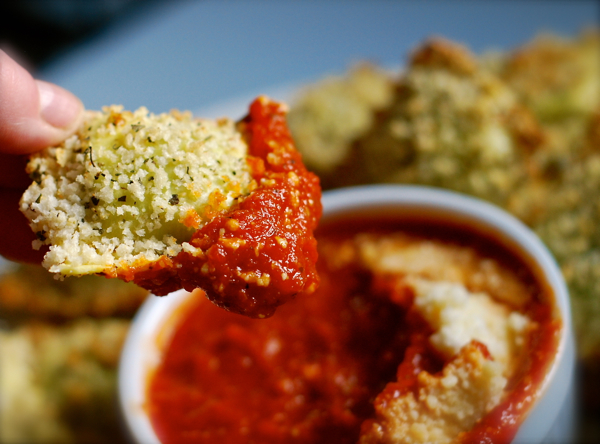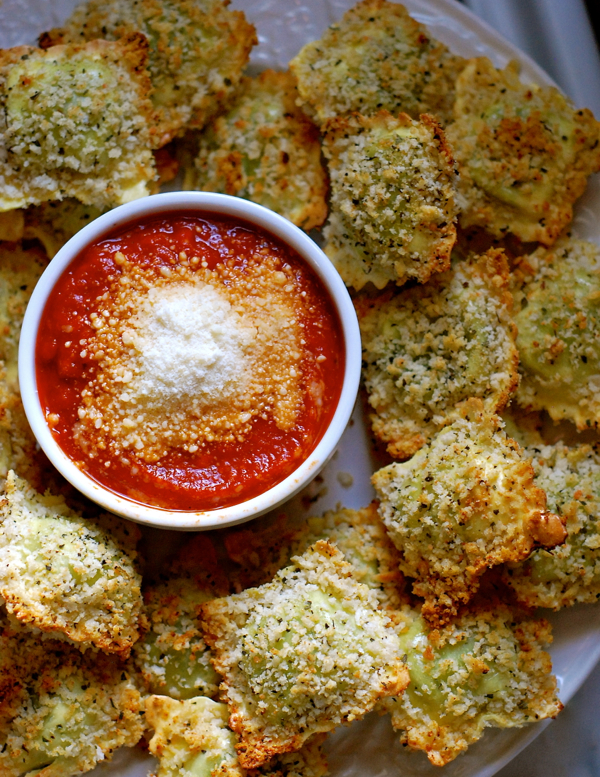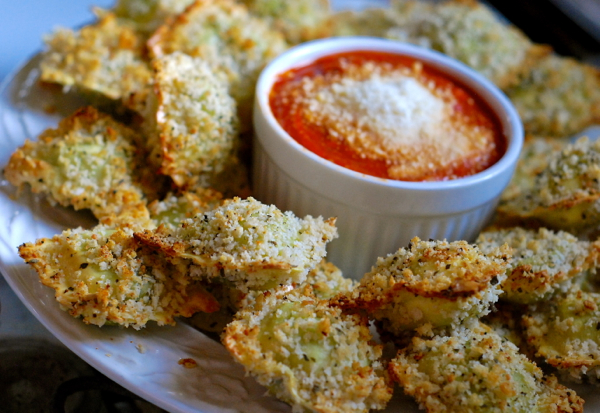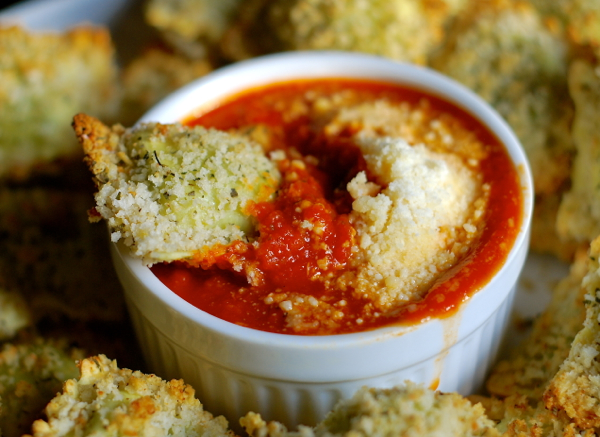 Have you ever had deep fried ravioli at an Italian restaurant? I've ordered them a few times. Sometimes they're wonderful and crispy, and sometimes they're just greasy and disappointing. I've thought about making them for quite some time and wondered how to cut down on the grease or just omit it all together. Then it hit me. Oven toast them and coat them with crispy, crunchy panko bread crumbs! Panko is sort of a miracle ingredient for "oven frying" in my opinion. It refuses to get soggy. I love it.
Can I just say these little nibbles turned out even better than I imagined they would? Annnnndddd, WAY better than any deep fried ones I've ever eaten. They sort of puff up while they bake and get so darn crunchy. Well, try them for yourself and see. Oven toasted ravioli. Awesome for party appetizers or a main course! Just make up a simple salad to go with it, and voila. Dinner is served.
~ preheat oven to 400 degrees F. ~
2 egg whites
2 teaspoons water
1 and 1/4 cup panko bread crumbs
6 Tablespoons powdered Parmesan cheese
1 Tablespoon dried oregano
1 teaspoon garlic powder
18 to 25 oz. package fresh, refrigerated ravioli (not dried or frozen)
olive oil spray
1 jar of your favorite marinara sauce
Place a wire rack on a big baking sheet. Beat egg whites with water in a bowl. In another bowl, combine: panko, 1/4 cup of the Parmesan, oregano, and garlic powder. Mix well. Dip ravioli, one at a time, in the egg white mixture and coat completely. Then coat with the panko crumb mixture, pressing so you can get as much of the crumb mixture to stick as possible. Line the coated ravioli on the wire rack. Spray with some olive oil cooking spray. Bake in preheated oven until golden and slightly puffed (18 to 25 minutes.)
Once ravioli are done cooking, transfer them to a serving tray. Heat some of the marinara with the remaining Parmesan cheese, just until warm. Dip the toasted ravioli in the sauce!
Enjoy!
~Melissa
You may enjoy these related posts: