Print Friendly Version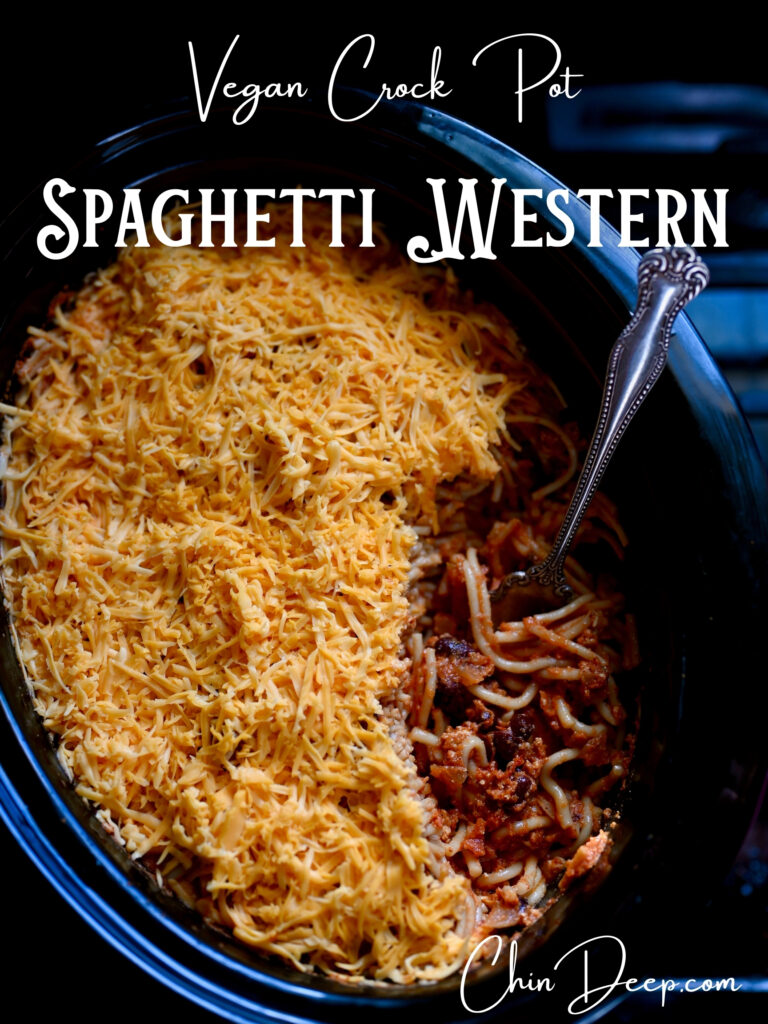 I've thought about making this dish for quite some time. I love the play on words, and I also think the combination of a southwest, Tex Mex dish would pair well with creamy spaghetti. Everyone loves my traditional baked spaghetti, and my creamy vegan Crock Pot baked spaghetti, so I figured I'd make up a pot of this and share the recipe with you.
Baked spaghetti (or slow cooker "baked" spaghetti) is a great thing to make at the beginning of the week so you have easy, fast meals that only take a few minutes to reheat in the microwave. I love having comfort food that I don't have to fuss over, and I'm sure you probably do too. Just heat up some garlic bread and make up a big, simple tossed salad, and voila. Dinner is served.
Oh, and about that title. Who out there remembers the old Spaghetti Western movies? Django Unchained, a Quentin Tarantino movie, would be a good example of a modern Spaghetti Western. Here's a link to a detailed post on Spaghetti Westerns so you can get a clear idea of what they are.
Wouldn't it be fun to gather a few of these movies, make a pot of Spaghetti Western spaghetti, and have a fun theme dinner/movie night? I love stuff like this! So much fun!
This Spaghetti Western baked spaghetti is creamy and has both Italian and Mexican flavors. I added a jar of flavorful salsa, a can of black beans, and taco seasonings. You could top this delicious meal with meatballs, and some crunched up tortilla chips just before serving. And don't forget the hot sauce if you like it spicy!
1 lb. spaghetti noodles
24 oz. marinara or spaghetti sauce
24 oz. chunky salsa
24 oz. water
2 cups cashew cream OR Tofutti vegan cream cheese
8 oz. extra firm tofu, crumbled fine
15 oz. can of black beans, drained and rinsed well
15 oz. can petite diced tomatoes, undrained
1/2 cup nutritional yeast
1 packet taco seasoning, or homemade taco seasoning
2 cups shredded vegan cheddar cheese
vegan meatballs (optional)
crushed tortilla chips (optional)
hot sauce (optional)
Break up the noodles and put them in the Crock Pot. In a big bowl, combine the spaghetti sauce, salsa, water, cashew cream/cream cheese, nutritional yeast, tofu, black beans, tomatoes, and taco seasoning. Pour over the noodles and mix so all the noodles are coated and under the liquid.
Cover and cook on LOW for 4 hours or just until the noodles are done. During the last 20 minutes of cooking time, top the baked spaghetti with the shredded cheese. Cover Crock Pot and cook until cheese has melted.
Top with optional prepared vegan meatballs, crushed tortilla chips, and hot sauce.
Enjoy!
~ Melissa
You may enjoy these related posts: