Print Friendly Version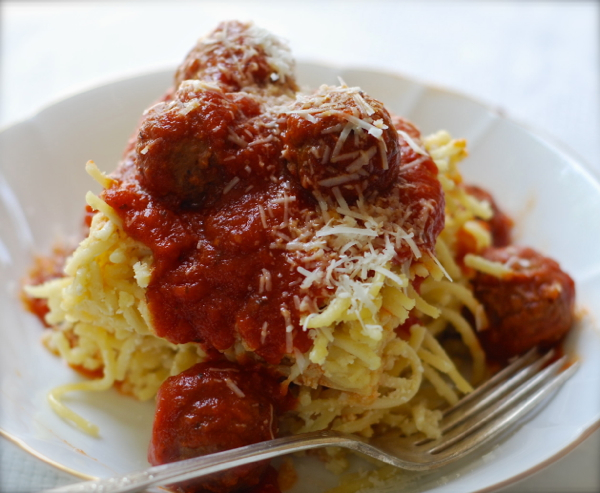 Today my daughter Gracie turned 13. So bittersweet. I remember taking her home from the hospital and all of those beautiful baby memories. I love how my daughters are growing up to be strong, beautiful women…but I miss my babies. Ah, this is the universal feeling among most mothers I am quite sure. I am grateful for every stage though. I really am trying to embrace change, but it's not my strongest quality.
We celebrated with my grandparents, my daughter Andie, and my grandgirls Maddie and Chloe. I made a big Italian meal that started with delicious garlic bread that Andie brought, THIS SALAD, and ended with a decadent chocolate,  whipped cream cake that my grandparents brought. The main course…. this amazing baked spaghetti!
There's an Italian restaurant in the Mall of America called Tucci Benucch. I must admit, I don't visit very often. The food that I've ordered there has always tasted great, but their portions are tiny, and everything is served a la carte. When I do go, I'm always prepared to spend a lot for a little. It's not the sort of restaurant you visit if you're looking for a great value. The atmosphere could use an update, and the service…meh. Not impressed. I would say if you're  going to try to recreate a restaurant recipe, this is a great one. You can cook a wonderful, creamy, AMAZING pasta dish that tastes just like the real thing! Why not enjoy it with a bunch of family and friends in the comfort of your own home for a fraction of the restaurant price? I hope you enjoy this as much as we do.  It's truly fantastic Italian fare!
~Serves 12 to 16 ~
preheat oven to 375 degrees F.
2 lb. spaghetti noodles
3 teaspoons olive oil
2 (15 oz.) jars prepared Alfredo sauce (I like Newman's Own)
1 cup grated Parmesan cheese
16 oz. whole milk ricotta cheese
4 large eggs, slightly beaten
4 large cloves garlic, pressed or minced
2 teaspoons onion powder
50 small Italian meatballs (homemade or frozen, pre-made)
3 (20 oz.) jars marinara sauce (I like Newman's Own)
1/4 cup fresh basil, chopped fine
1/4 cup fresh oregano, chopped fine
Place homemade meatballs in a crockpot along with the jars of marinara sauce and fresh herbs. Turn on low and allow to heat while you prepare the rest of the dish. ***If you're using frozen meatballs, do this at least 2 hours in advance.
Cook the pasta in salted water, according to package directions for "al dente" spaghetti. (I let my pasta boil for about 9 minutes.)
Drain the cooked pasta very well. Place it in a large mixing bowl with a couple teaspoons of olive oil to keep the noodles from sticking together. In a medium mixing bowl, combine the Alfredo, Parmesan, ricotta, eggs, garlic, and onion powder. Mix until smooth. Add to the spaghetti and mix until well combined.
Butter a 9 x 13 glass baking dish. Spread the spaghetti mixture evenly in the dish. Cover with aluminum foil and bake at 375 degrees F. for 30 to 45 minutes (or until heated through). Remove foil and allow to bake an additional 5 to 10 minutes, until hot and bubbly.
Cut into 12 to 16 squares. Place each square in a pasta bowl. Top with some marinara and approximately 3 meatballs per person. Sprinkle on additional grated Parmesan cheese to taste.
Enjoy!
~Melissa
You may enjoy these related posts: