Print Friendly Version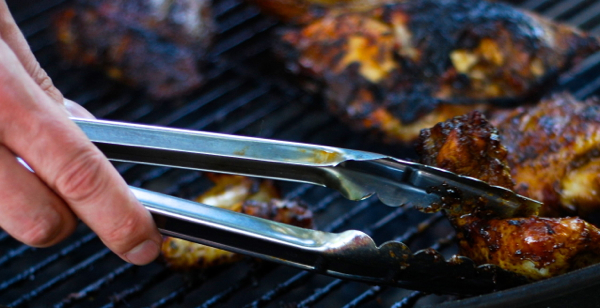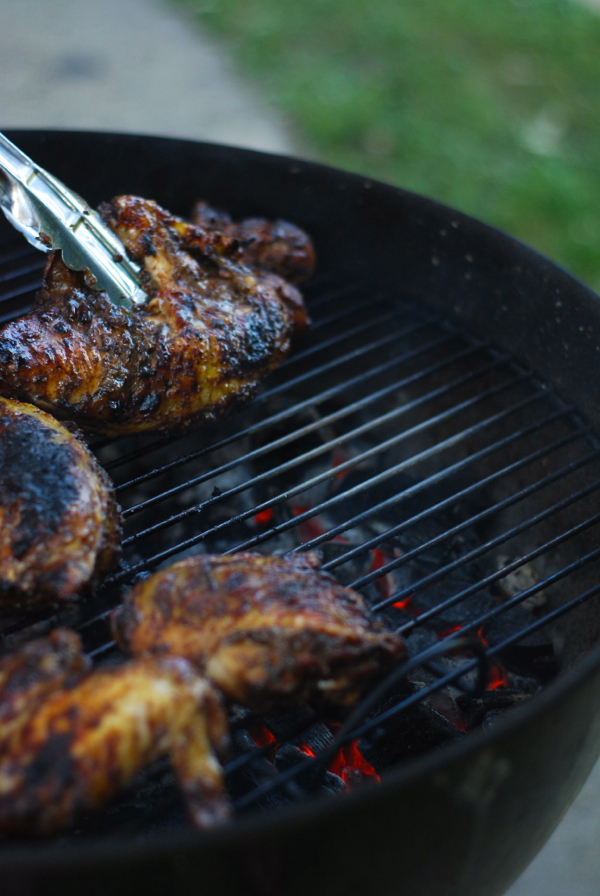 Ahhhhhh, the beginning of another weekend. We're headed out to the deck in a little bit. Grilling a new recipe for chicken, and I invented a new dip today that I'll be sharing with you all very soon.
I've tried making "real" jerk chicken about a dozen times and was never impressed with the results. I've ordered it in authentic Jamaican restaurants and thought, "This is good, but it could be great if they added more of this and this…." So, I decided to once and for all make up a recipe that would truly knock my socks off. This is that recipe. Not kidding. You'll eat it and say "Where did my socks go?" 😉
Make up the marinade/sauce a day before you want to grill. The chicken needs to marinate for 24 to 48 hours in the refrigerator.
marinade and sauce for 1 whole, skin-on, fryer chicken:
1/4 cup fresh grated ginger root
4 or 5 large garlic cloves, minced
1 and 1/3 cup chopped red onion
1 whole serrano chili pepper
1/4 cup fresh thyme leaves
3 teaspoons cinnamon
1 teaspoon chili powder
1 teaspoon chipotle powder
1 teaspoon allspice
1/4 teaspoon ground cloves
1/3 cup canola or vegetable oil
1/4 cup molasses
1/4 cup soy sauce
2 Tablespoons balsamic vinegar
1 teaspoon Lawry's Seasoned Salt
2 teaspoons ground black pepper
1/2 teaspoon cayenne pepper
Place all ingredients in the bowl of a food processor. Blend until smooth.
Remove 3/4 cup of the sauce and place in a small bowl with a tight fitting lid and place in refrigerator.. This will be your dipping sauce when the chicken is done.
Add an additional 1/4 cup of oil and 1/4 cup of balsamic vinegar to the remaining marinade.
Place the fresh/completely thawed, fryer chicken and the rest of the marinade in a large, heavy duty Ziploc bag, or a container with a tight fitting lid. Make sure all chicken pieces are coated well. Gently peel back the skin on the chicken and put some of the marinade between the skin and meat. Push the chicken down beneath the surface of the marinade as much as possible. Cover and place in refrigerator for 24 to 48 hours. Moosh the marinade around the chicken and reposition a few times during the one or two day marinating process.
Grill over charcoal, until juices run clear, checking a few times to make sure the chicken doesn't burn.
Enjoy!
~Melissa
You may enjoy these related posts: