Print Friendly Version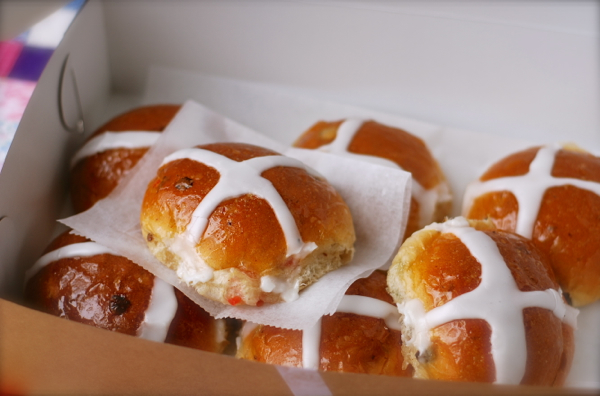 Make up a batch of these delicious, perfectly spiced, vegan hot cross buns. Allergen free! Cruelty free! And so, so good! They're light, fluffy, and the perfect addition to your Easter menu.
Unfortunately most bakeries that offer hot cross buns make them with milk and eggs. Which, you will soon discover, is completely unnecessary. And what's really cool is once you make your own, you'll be able to make them any time. Not just for Easter! They're a wonderful accompaniment to coffee, tea, or oat milk.
Hot cross buns are known for being wonderful with copious amounts of butter. We like Miyokos or organic Earth Balance. Do you have a favorite vegan butter?
Something you'll notice about these hot cross buns, if you're a connoisseur, is that they don't have the traditional flour crosses on them. I guess my philosophy is that if they taste even better with a little vanilla icing on top, why bother with the flour crosses? Make those crosses out of frosting!
Okay, let's make some hot cross buns!
for the buns:
2 and 1/4 teaspoons yeast
1 teaspoon brown sugar
1/2 cup lukewarm water
1/2 teaspoon pure vanilla extract or vanilla bean paste
3/4 cup room temperature, plain, unsweetened soy milk (or other plant milk)
1/3 cup vegetable oil
1 teaspoon salt
1/2 teaspoon ground cinnamon
1/2 teaspoon ground nutmeg
1/2 teaspoon ground allspice
1/4 teaspoon ground cardamom
pinch of ground cloves
1 Tablespoon fresh orange zest
1 Tablespoon fresh lemon zest
3 and 1/2 to 4 cups all purpose flour
1/2 cup dried currants or dried cranberries
1/4 cup chopped, dried apricots
for the vegan "egg" wash:
2 Tablespoons soy milk
1 Tablespoon pure maple syrup
for the icing:
1/2 cup powdered sugar
1/4 teaspoon pure vanilla extract or vanilla bean paste
2 and 1/2 teaspoons to 3 teaspoons soy milk
Add yeast and sugar to a large mixing bowl. Pour in lukewarm water. Allow to stand a few minutes. It will start to bubble.
Once yeast is foamy, add room temperature milk, oil, salt, cinnamon, nutmeg, allspice, cardamom, cloves, and citrus peel. Mix. Add one cup of the flour and mix with a wooden spoon to combine. Add 2 more cups of flour. Mix in. Transfer to a floured surface and knead for 4 minutes, or until dough is no longer sticky, adding more flour as you knead (as needed.) You don't want to go over the 4 cup mark or your buns will become tough and heavy. During last minute of kneading, add the dried fruits.
Butter the inside of another large mixing bowl. Place dough in bowl and rub a little more butter on top. Cover with plastic wrap and set in a warm spot (I place mine on top of a preheating oven.) Allow to raise until doubled in size. This will take approximately one hour.
Line a 9″ x 13″ baking pan with cooking parchment.
After the dough has finished rising, punch it down a few times to remove air pockets. Separate dough into 12 equal size balls, and line them up in the prepared, parchment-lined pan. Cover pan with plastic wrap and set the buns in a warm spot. Allow them to rise for 30 minutes.
Preheat oven to 375 degrees F.
While oven is preheating, make the "egg" wash by mixing the 2 T. of milk and 1 T. maple syrup together in a small ramekin or bowl. After the rolls have rested, and right before they go into the oven, uncover and discard plastic wrap, and then brush some of the egg wash over each bun.
Bake buns for approximately 20 minutes or until they are golden brown and sound hollow when tapped. Remove from oven and allow buns to rest for a few minutes in the pan.
Remove buns using the parchment paper overhang as handles. Place buns on cooling rack. Don't separate them yet.
While the buns cool, make the icing by mixing the powdered sugar, vanilla, and milk. Mix just enough of the milk in to form a thick icing. Place in piping bag.
Once buns have cooled completely, pipe the icing on the buns to form crosses. Only put crosses on the ones that will be eaten right away.
Serve and store leftovers in an airtight container. Buns will stay fresh up to 3 days.
Enjoy!
~Melissa
You may enjoy these related posts: