Print Friendly Version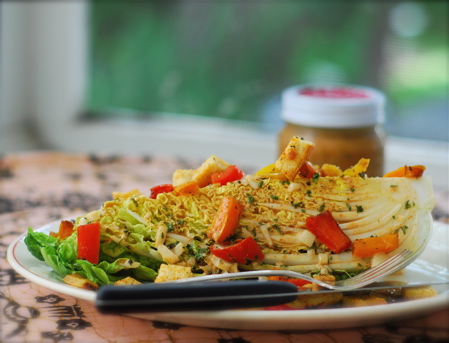 ~ napa wedge salad with spicy sesame peanut dressing ~
This is what we had for lunch today and Gracie said it was the best salad she's ever had. I thought it would be fun to create a new "wedge" style salad using Napa cabbage, and this is what I came up with. Careful, the dressing is addictive!
serves 4
1 large head Napa cabbage cut into 4 wedges
for the dressing:
1/4 cup real mayonnaise
1/4 cup apple cider or white vinegar (or fresh lemon juice)
1/4 cup extra virgin olive oil
1/4 cup honey
1/4 cup finely chopped onion
2 Tablespoons natural peanut butter
2 Tablespoons dark sesame oil
2 Tablespoons fresh parsley, chopped
1 Tablespoon fresh ginger, grated
1 large clove garlic, minced
2 teaspoons Chinese black bean sauce
2 Teaspoons freshly ground black pepper
1 Teaspoon Sriracha hot sauce
1 teaspoon smoked paprika
garnishes:
multi-colored, grilled bell pepper, coarse chopped
homemade croutons
sesame seeds or sunflower seeds (optional)
Wash the cabbage wedges without separating them from their core. Blot dry and place on four separate plates. combine all of the dressing ingredients in a medium bowl and mix well with a wire whisk. Drizzle the desired amount over each wedge. Garnish each wedge with the chopped, grilled bell pepper, croutons and seeds.
Enjoy!
~Melissa
You may enjoy these related posts: