Print Friendly Version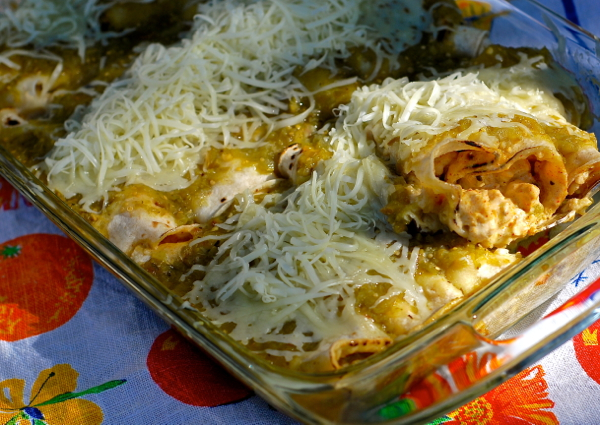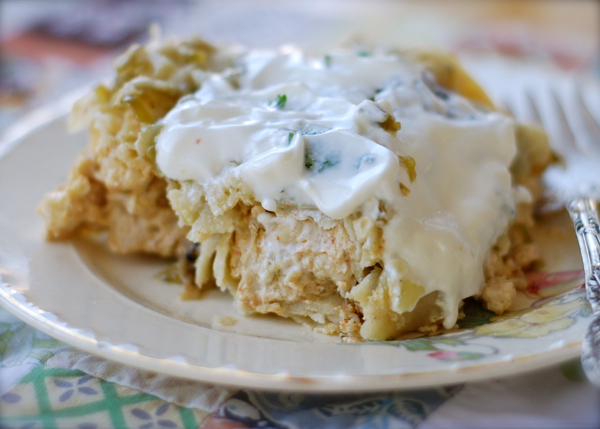 These are the creamiest, richest, very best chicken enchiladas I've ever made or eaten. They're perfect. If you're not a fan of corn tortillas, you can use the taco-sized flour tortillas. If you use flour tortillas there's no need to toast them first, just fill them and roll them up.
for 15 enchiladas:
(serves 5 people/ 3 enchiladas each)
~ preheat oven to 350 degrees F. ~
2 to 4 Tablespoons olive oil
1/2 cup chopped onion
2 Tablespoons cumin
1 Tablespoon chili powder
2 teaspoons garlic powder
1/2 teaspoon freshly ground black pepper
3 large, boneless, skinless chicken breasts, patted dry, cubed small
8 oz. regular cream cheese OR Neufchatel cheese
8 oz. full fat sour cream
2 jalapeno peppers, seeds and stems removed, chopped fine
24 oz. green tomatillo salsa (verde sauce)
8 oz. shredded Monterey Jack cheese
15 soft corn OR flour tortillas
Heat two heavy skillets over medium-high heat. Place 1 or 2 Tablespoons olive oil in each. Once shimmering, divide onion, cumin, chili powder, garlic powder, and pepper between pans. Saute until tender, translucent, and fragrant (3 to 5 minutes.) Divide chicken between pans. Saute until chicken is almost completely cooked, but still a little pink inside. Divide cream cheese between pans, and turn heat to low. Stir until cheese is melted. Remove pans from heat and transfer the chicken mixture from both pans to a large mixing bowl. Stir in sour cream and finely chopped jalapeno peppers.
Spread half of the verde sauce evenly in the bottom of a 9×13, glass baking pan.
If using corn tortillas (which I prefer) toast each of them by placing them directly on a stovetop burner over medium-low heat, and flipping them frequently until slightly toasted and golden around the edges. You don't need to toast flour tortillas.
Fill each tortilla with some of the filling mixture (approximately 1/3 heaping cup per tortilla.) Roll up and place, seam side down, into the verde sauce in the baking pan. Line them up in a straight row. If you have extra filling, you can heat up some more tortillas, fill them, and place the rest of the enchiladas in a smaller pan. Once all of the enchiladas are in the pan(s), top them with the rest of the verde sauce. Cover pan(s) with foil. Bake in preheated oven for 40 minutes. Remove foil, sprinkle shredded cheese evenly over the top of the enchiladas and bake, uncovered, for an additional 5 to 10 minutes or until cheese is melted and bubbly.
Remove from oven and allow to rest for 10 minutes before transferring to plates and serving. Top with chopped cilantro, diced avocado, sliced green onions, and more sour cream, if you wish.
Enjoy!
~Melissa
You may enjoy these related posts: