Print Friendly Version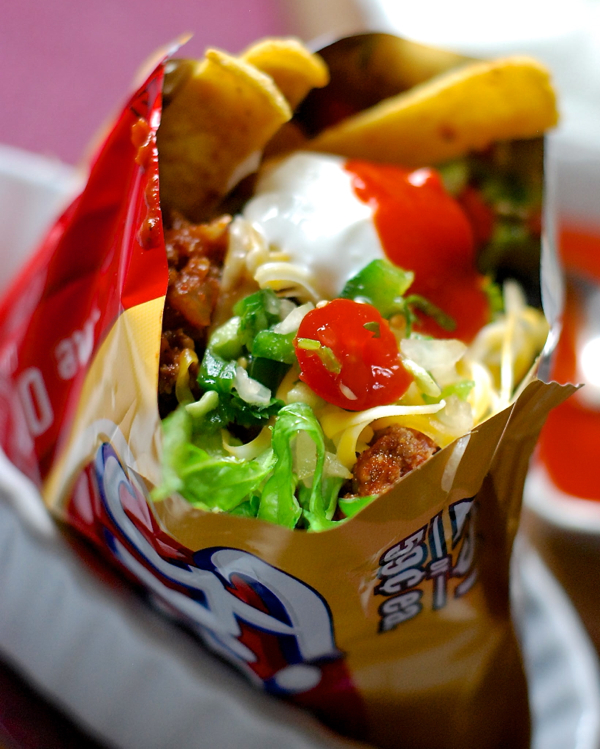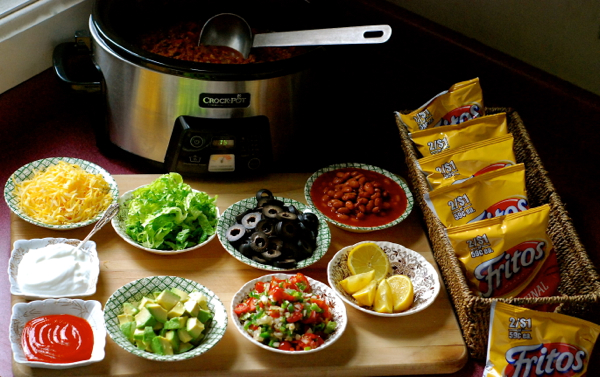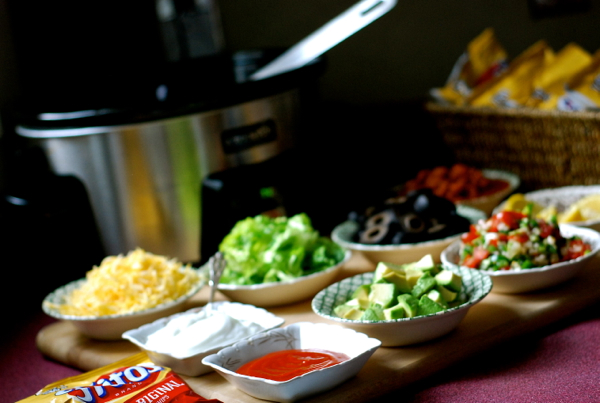 You may have had walking tacos at county fairs and sporting events. They're so delicious and such a convenient lunch/snack for family gatherings, potlucks, picnics and they're perfect for game day! Just make up the taco meat in advance, put it in your slow cooker to keep it warm, place the taco accoutrements around the Crock Pot and voila! Lunch is served! Everyone loves this fun Crock Pot Walking Taco Bar!
for the taco meat:
2 to 3 lb. lean ground beef, browned until almost done
2 large onions chopped
1 (28 oz.) can crushed tomatoes OR tomato puree
2 heaping Tablespoons cumin
1/4 cup chili powder
2 Tablespoons Sriracha hot sauce (or your favorite)
1 Tablespoon regular or smoked paprika
1 teaspoon garlic powder
1/2 cayenne pepper OR teaspoon red pepper flakes
Place browned meat, onions, tomatoes, cumin, chili powder, Sriracha, paprika, garlic powder, and red pepper in the bowl of your 6 to 8 quart Crock Pot. Mix well. Set cooker on HIGH setting for 2 to 4 hours, or on the LOW setting for 4 to 6 hours. Cover. Once taco meat starts to boil, reduce heat to WARM setting. Now the meat is ready to serve, just cover it and place a ladle or large spoon next to the slow cooker for easy scooping.
Place little bowls/ramekins/teacups around the slow cooker. Fill them with any or all of the following toppings: sour cream, shredded cheese, hot sauce, shredded lettuce, chopped avocado or fresh guacamole (sprinkled with lemon juice so it doesn't brown,) fresh pico de gallo or salsa, chili beans, sliced black olives, and lemon/lime wedges.
Place a basket filled with little, single serving bags of Fritos or Doritos corn chips alongside the other ingredients.
To serve: Cut the bags of Fritos along the side edges of each bag. Top the chips with taco meat and any/all of the toppings suggested above.
Enjoy!
~Melissa
You may enjoy these related posts: