Print Friendly Version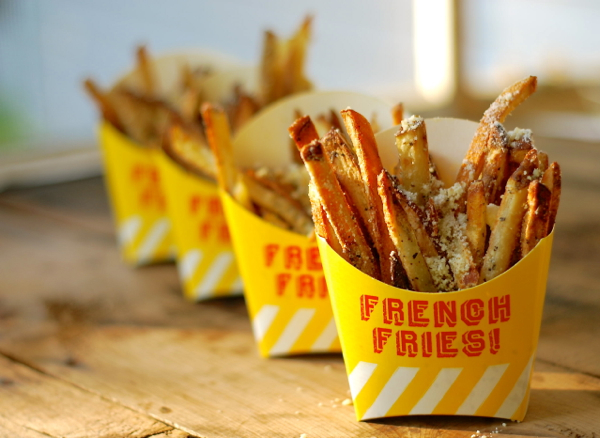 Who doesn't love crispy French fries? I don't think I've ever heard anyone say that they don't like fries. Did you know that you can oven-bake fries and that they'll turn out just as crispy and awesome as if you deep fried them? Well, it's true. Provided you make them the right way. I'm about to show you how right now, and I think you'll be surprised at just how fast and easy this is. Just follow these simple instructions and be prepared to me amazed. The seasonings and cheese topping on these fries make them taste perfect, but you can certainly dip them in ketchup if you wish.
4 big servings:
~ preheat oven to 425 degrees F. ~
4 large russet potatoes, washed and scrubbed, unpeeled
1/2 cup extra virgin olive oil
1 teaspoon garlic powder
1 Tablespoon dry Italian seasoning
1/3 cup grated or jarred Parmesan cheese
sea salt and freshly ground black pepper, to taste
Cut potatoes into 1/4 inch sticks. Toss with the olive oil in a large bowl. Spread onto large, rimmed baking sheets in one even layer. Bake in the upper third of your oven until golden brown and crispy (approximately 30 minutes.) Remove from oven and carefully loosen fries from pan. Don't be tempted to toss them in the middle of their baking time or they may stick to the pan.
Remove from pan and place in a large mixing bowl. Sprinkle the garlic powder, Italian seasoning, Parmesan or Asiago cheese, salt and pepper evenly over all fries. Toss well until evenly coated and serve.
Enjoy!
~Melissa
You may enjoy these related posts: