Print Friendly Version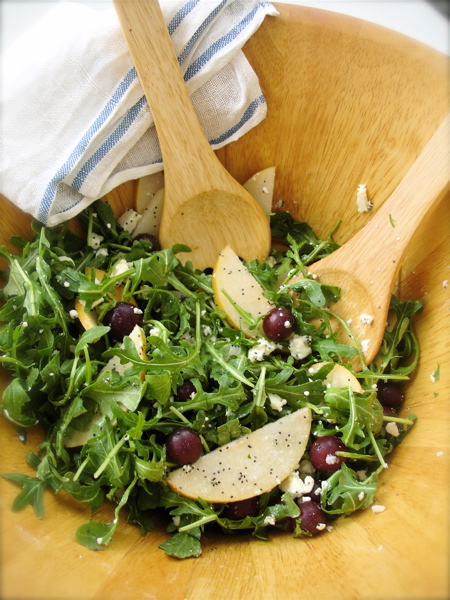 ~ fancy schmancy arugula salad ~
I think arugula is my very favorite salad green. It has a deep, rich taste that pairs perfectly with salads containing cheese or beef. I also LOVE it on my burgers! This salad is delicious and easy to prepare and yet still fancy schmancy enough to serve at a dinner party.
In a big salad bowl, combine:
5 oz. organic arugula leaves
1/2 cup gorgonzola cheese, crumbled
2 cups sweet red or purple grapes
1 asian apple pear, sliced thin
1 cup candied pecans or walnuts, chopped fine
1 Tablespoon poppy seeds
1/2 cup maple balsamic vinaigrette (recipe below)
coarse sea salt and fresh ground pepper, to taste
maple balsamic vinaigrette:
1/2 cup extra virgin olive oil
1/4 cup balsamic vinegar
1/4 cup honey or real maple syrup
1/2 teaspoon onion powder
1/2 teaspoon garlic powder
1/4 teaspoon maple extract  (if using honey)
1 teaspoon Dijon mustard
Combine all in a canning jar, cover tightly and shake well to combine.
Toss with salad.
Enjoy!
~Melissa
You may enjoy these related posts: