Print Friendly Version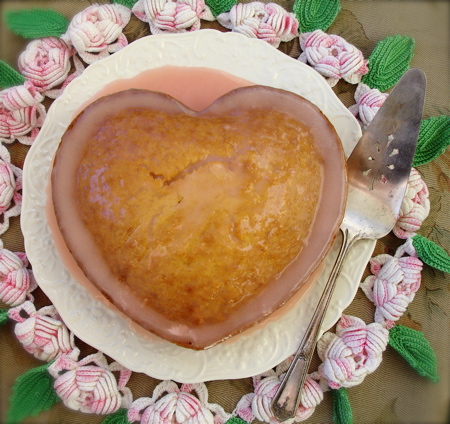 ~ pink pomplamoose tea cake ~
"Buddy the elf! What's you're favorite color?" ~Will Ferrell in "Elf"
I'm a tiny bit obsessed with pink food. Pink is my second favorite color…first is red and third is orange. I love it. And when it's added to food in the right way, it's absolutely stunning. I've been brainstorming ways to add pink to my recipes. There's a fabby recipe in THIS book for fish carpaccio with pink peppercorns. Pink peppercorns are nature's savory sprinkles. I just love them, don't you? How could a peppercorn be so stinkin' cute? I ask you. Tessa Kiros, one of my favorite food goddesses, also wrote THIS book which includes an entire chapter of pink foods. Things like beet gnocchi, poached fruit in vanilla syrup, and tiny pink cupcakes.  She rocks. Seriously. So much inspitation to be found in her masterpieces. I'm waiting for THIS book to arrive in the mail box and I can hardly stand the anticipation. Who is your favorite cookbook author?
So, I was thinking about pink food and I thought…grapefruit! Pomplamoose is the French word for grapefruit, and it's really fun to say. Try it…pomplamoose. See? 🙂 It's also the name of one of my favorite indie bands. I listened to a little on my iPod while creating my tea cake recipe. Listen to a few of their songs HERE, HERE and HERE if you'd like.
for the cake:
1 and 3/4 cup all purpose flour
1 teaspoon baking powder
1/2 teaspoon baking soda
1/2 teaspoon salt
1/2 cup sugar
2 large eggs
1/2 cup buttermilk
3 Tablespoons extra virgin olive oil
2 Tablespoons honey
zest of one grapefruit
Zest a grapefruit. Set aside. Preheat oven to 350 degrees F. Mix all dry ingredients. In separate bowl, mix wet ingredients. Add wet to dry, don't overmix. Fold in zest. Butter a bread pan or small cake pan well. Pour batter in. Bake for 35-40 minutes or until a toothpick inserted into the center of the cake comes clean.
While cake is baking…make the pretty pink glaze…
for the pink glaze:
Combine juice of one grapefruit (I used a juicer, but you don't have to)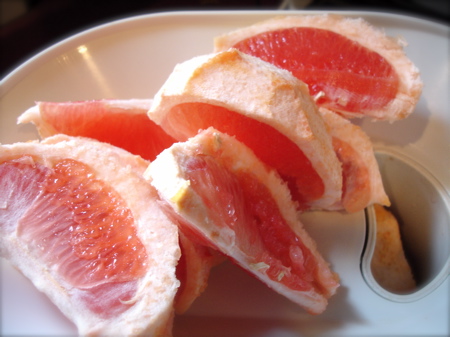 I love how pink and frothy citrus juice is when made in and electric juicer…
add just enough powdered sugar to make a smooth glaze…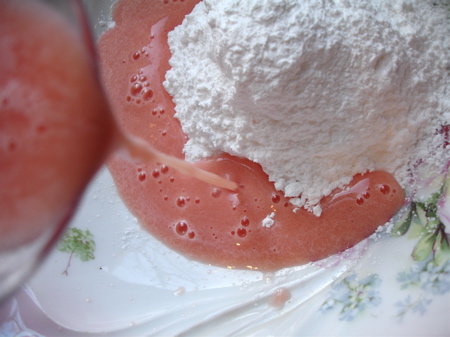 mix with a wire whisk until completely blended…
Drizzle some glaze over completely cooled cake.
Cool to set glaze.
Enjoy!
Happy Teatime Tuesday!
XO,
~Melissa
You may enjoy these related posts: