Print Friendly Version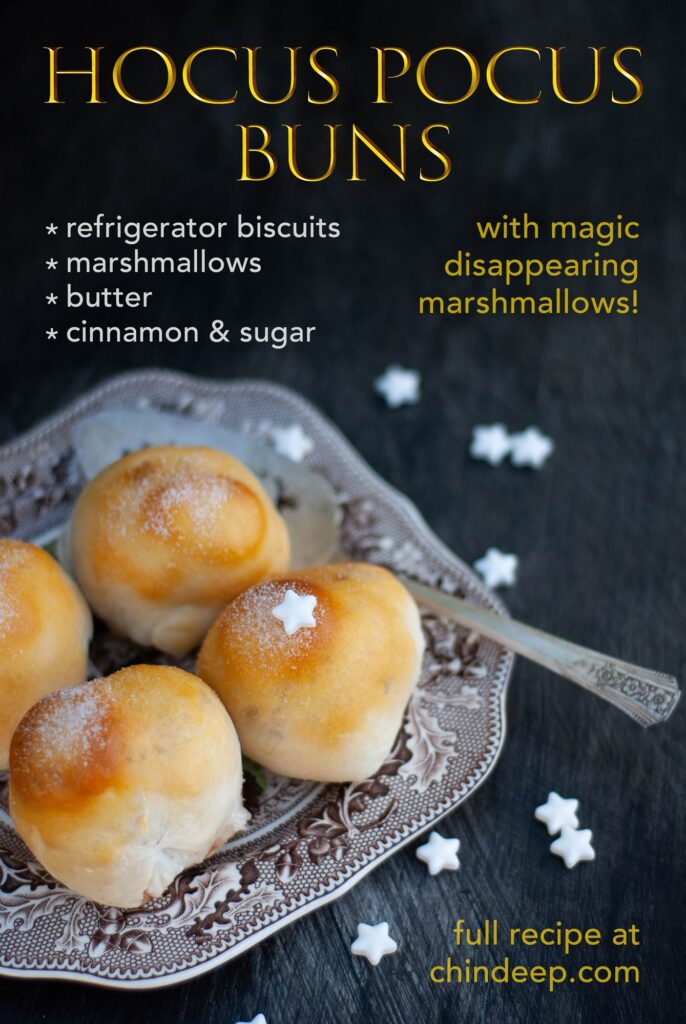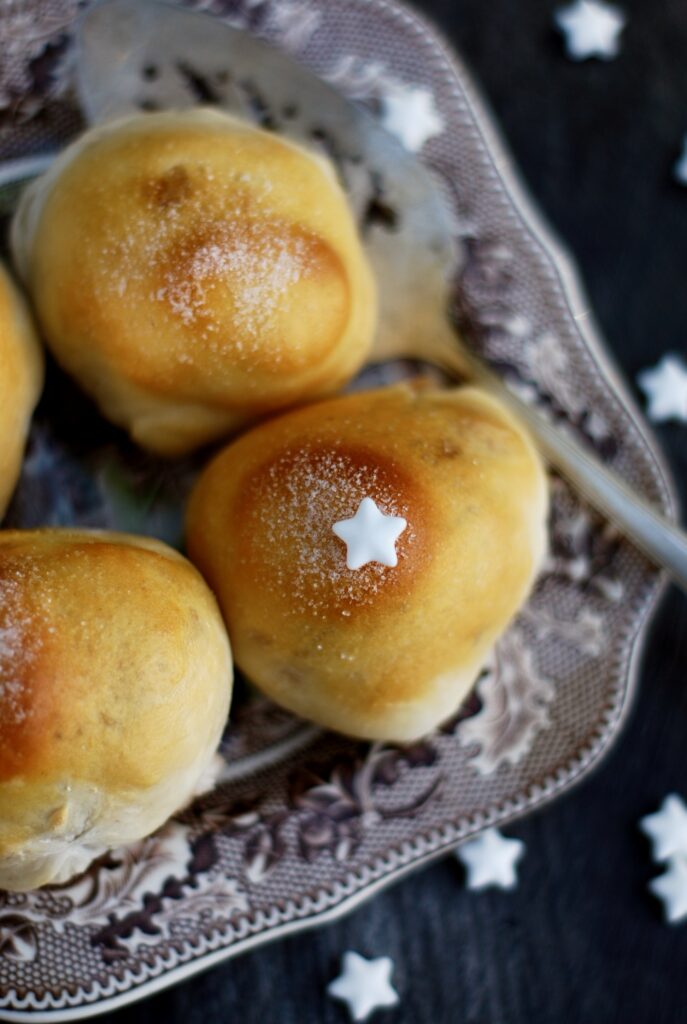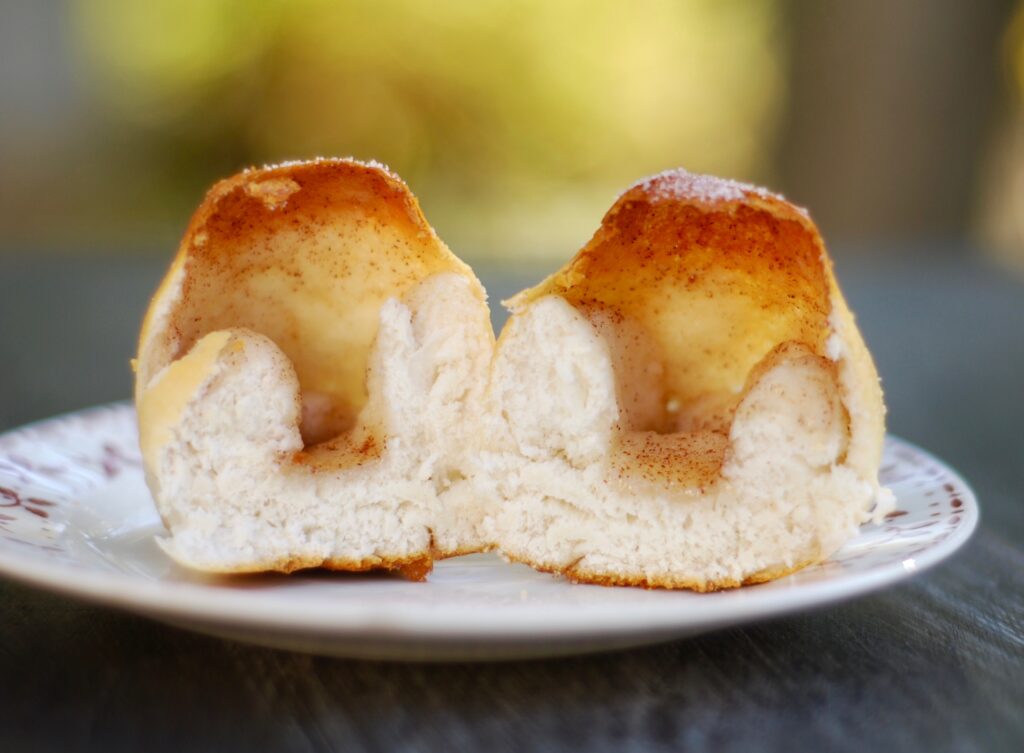 Hello, Friends!
Lots of changes happening in the ChinDeep studio these days. My hubby just got me a REALLY nice, new camera for our 25th wedding anniversary and I can't wait to start playing with it. I'm looking forward to creating lots of new posts for this blog and the new vegan blog. Stay tuned!
I've been doing lots of writing, and reading. Fall is definitely in the air, and we're enjoying every second of it. Art festivals, autumn walks in the leaves, leaf peeping on the Great River Road, patio lunches, hammock naps, backyard bonfires, warm beverages in big, chunky mugs… I just love this cozy time of year, don't you?
I thought it would be fun to create a recipe for Halloween, that's not necessarily a something you can only make for Halloween. It's fun, and "magical," but you can enjoy it any time of year.
In fact, these little rolls are also known as "Empty Tomb" Rolls and are a popular Easter Treat.
These Hocus Pocus buns are delicious. They're so fun and simple to prepare. I found the idea online, but when I went to make them according to the recipes I saw, they were a disaster. (My advice would be to not make the ones that call for crescent rolls.) I did love the concept though, so I decided to improve the recipe so you wouldn't end up wasting time in the kitchen. There's nothing worse than a recipe that's supposed to be easy that's a complete fail, and leaves you with a pile of gooey, blown up dessert in your oven.
Sooooo… I give you, these easy, fast, Hocus Pocus buns! You need two refrigerator biscuits per bun so you have plenty of dough to work with. A tube of 10 refrigerator biscuits will yield 5 buns.
These are so fun! You tuck a buttered marshmallow that has been dipped in cinnamon & sugar in the center of each bun, and as they bake the marshmallow "magically" disappears! Kids love these, and I must say, they really are a delicious, sweet treat.
Some of the marshmallow will probably escape from a bun or two, but no worries. It won't ruin your Hocus Pocus Buns. Just make sure to line your baking pan with a Silpat mat or baking parchment for easy cleanup.
For 5 Hocus Pocus Buns:
~ preheat oven to 375 degrees F. ~
1 tube of refrigerator biscuits (10 biscuits, NOT Grands)
5 regular size marshmallows
2 Tablespoons melted butter
3 Tablespoons sugar
1 teaspoon cinnamon
Line large baking sheet with a Silpat mat or cooking parchment. Mix the cinnamon and sugar together. Melt the butter. Remove biscuits from tube and, using fingers, flatten out two biscuits (not too thin, but big enough to get them around your marshmallow. Now dip a marshmallow in the melted butter and roll it in the cinnamon-sugar mixture. Place coated marshmallow on the center of one of the flattened biscuits, and mold the biscuit around the marshmallow. Using the second biscuit, wrap the biscuit around the open end. Essentially you want to completely enclose your marshmallow in the biscuits. No marshmallow showing, and no openings in the biscuit layer. Because you're using two biscuits to one marshmallow, you'll have plenty of dough to work with.
Place buns on lined baking sheet, at least two inches apart. Bake for 11 minutes in preheated oven. Remove from oven and allow to cool a bit before transferring to a cooling rack. You may want to brush them with a little more butter and sprinkle a little sugar on top (as pictured.)
When ready to serve, cut them in half to reveal the space where the marshmallow disappeared! This is a great recipe to make with kids.
Note: These can easily be made Vegan. Make sure you purchase refrigerated biscuits that don't contain dairy, and use vegan butter and marshmallows (we love Dandies.)
Enjoy!
~Melissa
You may enjoy these related posts: