Print Friendly Version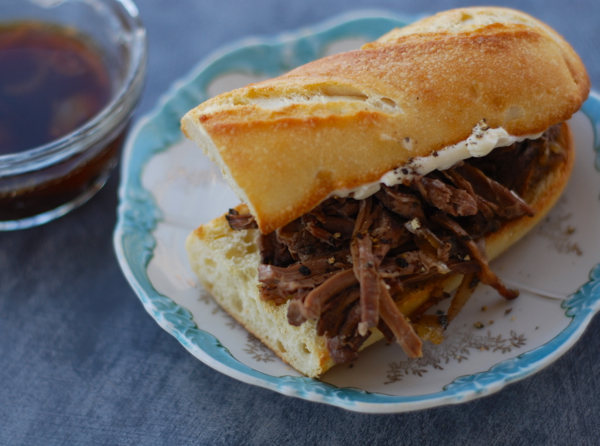 I've been so busy these days, but still in the mood for comfort food at the end of a long day. It's been fun experimenting with tried and true crockpot recipes. My friend Ruth gave me a recipe for Piquant French Dip sandwiches a few years ago, and I just got around to trying my rendition of it yesterday. My friend Bonnie has a recipe for Italian Beef in her tearoom cookbook too…I liked her addition of onions…so I decided to sort of do a combination of the two recipes and see what happened….
Oh my gosh. Are you ready for this? These are some of the best French dippers I have ever had…and SO easy. You're not gonna even believe it.
Of course I had to tweak the recipes ten or eleven times, cuz that's how I roll.
I hope you love these as much as we did!
4 lb. chuck roast
1 large onion, sliced thin and separated into rings
2 large garlic cloves, minced
2 cans beef consumme
1/2 cup dry red wine
1/4 cup soy sauce
2 Tablespoons dry parsley
1 Tablespoon dry Italian seasoning
2 teaspoons dried rosemary, ground into powder
1 teaspoon allspice powder
1 teaspoon freshly ground black pepper
1/4 teaspoon nutmeg
2 bay leaves
real mayonnaise mixed with horseradish to taste
French rolls or long baguettes cut into single servings
Place roast in slow cooker. Combine all other ingredients, except the French rolls and horseradish, and pour over roast. Cover and cook on low heat for about 6 to 7 hours, or until beef is tender and shreds easily with a fork. Remove beef from broth. Shred with a fork. Cover and keep warm. Skim fat from broth. Ladle into little dipping cups.
Toast the French rolls. Lightly butter them. Spread with a combination of real mayonnaise and horseradish. Salt and pepper meat to taste. Pile onto rolls. Dip in the au jus sauce.
PS…. the leftover beef and broth make a fantastic soup base! I made a pot of beefy barley & veggie soup with ours and the results were awesome….recipe for that soup, coming soon!
Enjoy!
~Melissa
You may enjoy these related posts: