Print Friendly Version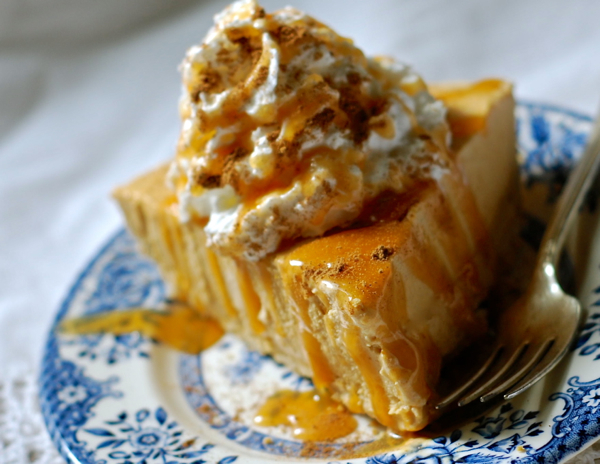 Do you love pumpkin EVERYTHING like I do? Are you looking for something other that the classic pumpkin pie, cake, bar, bla bla bla? Yeah. This time of year I'm always looking for new ways to incorporate the ever-popular pumpkin into my recipes.
It's been an unseasonably warm autumn this year. It's 75 degrees out there right now and it's suppose to get to 80 tomorrow. That's weird for Minnesota.
Sooooo, I thought, why not make a pumpkin ice cream treat? And then I created one. It's a sort of summer/autumn fusion dessert and I must say, it ROCKS. Ready?
~ serves 8 people ~
for the crust:
2 cups graham cracker crumbs
1/2 cup salted butter, melted
1/3 cup brown sugar
1/2 teaspoon cinnamon
 In a small bowl, combine the graham cracker crumbs, butter, brown sugar and cinnamon until well mixed. Press the mixture into the bottom and up the sides of a 9 inch pie plate.
OR use a pre-made graham cracker crust (even though it's not as good.)
for the pie filling:
1 cup pure pumpkin puree (not pumpkin pie filling)
1/2 cup dark brown sugar, firmly packed
1/2 teaspoon sea salt or kosher salt
2 teaspoons pumpkin pie spice
1 quart***vanilla ice cream (we love Sonny's or Breyer's)
Place all ingredients in the bowl of a counter top mixer. Using the paddle attachment, mix everything just until evenly combined.
Working quickly, scrape ice cream filling into the prepared graham cracker crust using a rubber spatula. Smooth top and place in freezer for 2 hours.
to serve:
canned whipped cream (such as Redi Whip)
homemade caramel sauce OR store bought caramel sundae topping
pumpkin pie spice for sprinkling
Using a sharp chef's knife, cut pie into 8 wedges. Place each slice on a pretty dessert plate. Drizzle with caramel sauce, garnish with a big dollop of whipped cream and a sprinkle of pumpkin pie spice. Serve.
*** I always buy 1/2 gallon of ice cream and use about 1 cup more than a quart (so, roughly 5 cups.)
Enjoy!
~Melissa
You may enjoy these related posts: