Print Friendly Version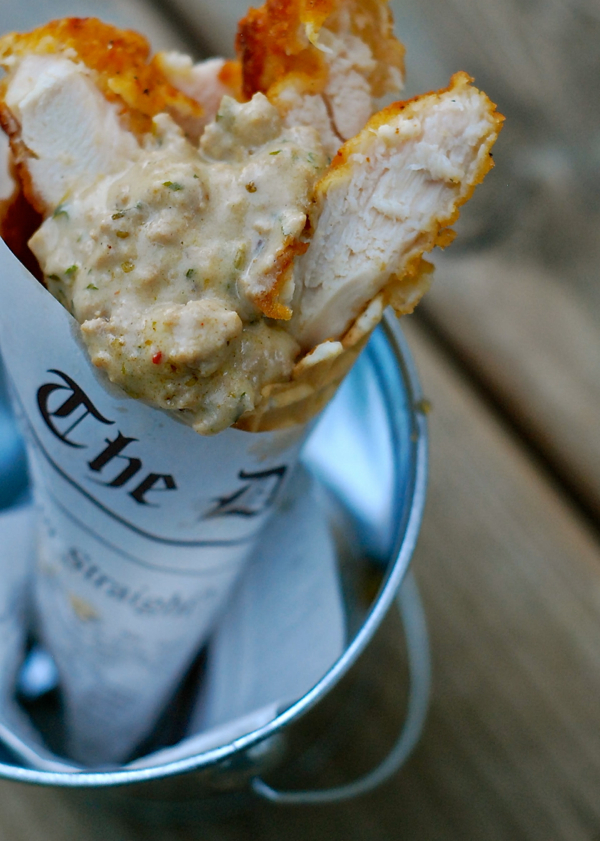 Here's a recipe that was inspired by a new Minnesota State Fair favorite. The Blue Barn was selling these beauties for just shy of $10 a piece and people were going nuts over them. I immediately thought these would make a fun, occasional snack or dinner. They're so easy to put together and SO delicious. They could be served as party appetizers too!
Feel free to fry up your chicken breasts from scratch. I just used Tyson Crispy Chicken Strips and baked them according to package directions. This chicken was perfect for this recipe and so easy to prepare.
To make 8 Chicken in a Waffle:
4 to 6 breaded, fried chicken breasts
8 large waffle cones
sausage gravy (recipe below)
pure maple syrup (or your favorite maple syrup)
Cajun seasoning (Tony Chachere's is awesome)
dried parsley
for the sausage gravy:
1 lb. spicy breakfast sausage (not links)
1/3 cup all-purpose flour
1/3 cup butter
2 cups 2% milk (plus more for thinning, if needed)
1/2 cup heavy whipping cream
1 Tablespoon Worcestershire sauce
2 teaspoons freshly ground black pepper
In a large, heavy, skillet cook sausage completely, breaking up as you go so it's in little chunks. Remove cooked sausage from skillet, cover and set aside. In the same skillet, melt the butter. Add the flour and whisk, over medium heat, until flour is browned and smells slightly nutty. Add milk and cream. Lower heat, and stirring constantly, whisk until the gravy thickens. Add Worcestershire sauce, pepper and sausage back to the gravy. Mix well. Thin with a bit more milk, if needed.
Putting it all together:
Cut the cooked, fried chicken breasts into strips. Place approximately half of a chicken breast into each waffle cone. Drizzle chicken with about 2 teaspoons of the pure maple syrup. Top with some of the sausage gravy and a little Cajun seasoning. Garnish with a pinch of dried parsley.
Enjoy!
~Melissa
You may enjoy these related posts: