Print Friendly Version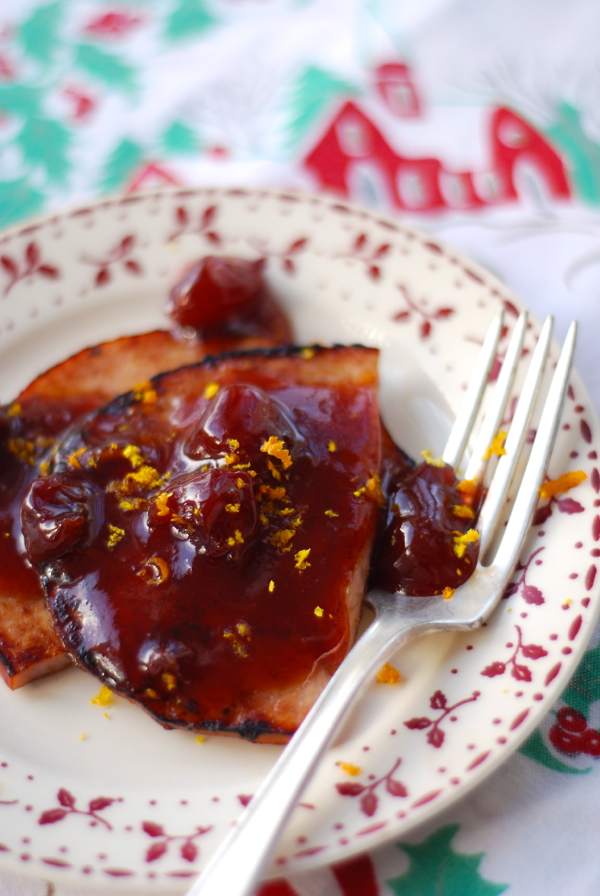 This easy spiced ham is a real hit on Easter as well as Christmas and other holiday get-togethers. Back in 2012 when I posted this recipe, we were preparing for Christmas.
I'm working on a few Christmas projects, cooking a cozy pot of chicken soup with sage dumplings, baking bread and doing some editing today too. The fire is lit in the fireplace, and my Colleen and Bradley are on the radio, making me laugh while I tend to things.
I made up a yummy new recipe that I think would be perfect for a Christmas Eve dinner for two. It's easy, romantic and makes spectacular leftovers. The flavors remind me of how pomanders smell. So fresh and Christmasy.
1 lb. ham steak (the fully-cooked kind)
1 (12 oz.) jar whole cherry preserves (I used Smucker's "Orchard's Finest")
2 Tablespoons brown sugar
1 Tablespoon orange zest
1 teaspoon ground cinnamon
2 dashes ground cloves
Heat a skillet to medium high. Add a teaspoon-or-so of butter to the pan and spread it around to coat the bottom. Place ham steaks in a single layer and cook until heated through and golden brown on each side (only about 3 minutes per side.)
Combine the preserves, sugar, orange zest, cinnamon and cloves and heat in a small bowl in the microwave or in a small saucepan on your stove top. Stir until just heated. Plate the ham, pour some of the sauce over and grate a little more orange zest over the top. This is such a yummy dish with a crisp, green salad and homemade macaroni and cheese!
Enjoy!
~Melissa
You may enjoy these related posts: