Print Friendly Version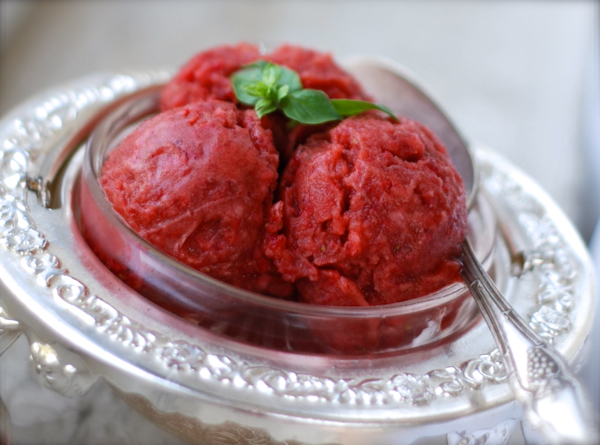 You may have guessed, I'm compiling a strawberry collection! Soon I'll have 40 recipes featuring this gorgeous berry all consolidated into one easy-to-navigate list so you can browse and sample at your leisure. I'm so excited to share these beautiful, favorite strawberry recipes with all of you! Of course I'll be adding to the collection as I make more strawberry creations this summer.
Have you ever tried fresh strawberries drizzled with balsamic vinegar? This simple sorbet was inspired by that simple flavor combination. It's gorgeous. Use the very best balsamic vinegar you can afford.
This sorbet has strawberry chunks in it and I really like it that way, but if you're looking for a smoother consistency sorbet, simply strain the mixture through a fine-mesh sieve or cheesecloth after zipping the ingredients in a blender.
Makes approximately 3 cups of sorbet:
1 lb. fresh, perfectly ripe strawberries, washed
1 cup super fine sugar (adjust according to sweetness of berries)
2 Tablespoons good quality balsamic vinegar
2 teaspoons pure vanilla extract (I used bourbon vanilla from Trader Joe's)
Remove green tops and hulls from strawberries. Quarter berries and place in the bowl of a blender along with 1/2 cup of sugar, balsamic and vanilla. Puree until smooth. Taste and add more sugar if needed (up to 1/2 cup more.)
Freeze in an automatic ice cream maker according to manufacturer's directions. This sorbet only took about 15 minutes to make from start to finish!
Serve immediately, or place in a freezer-safe, air-tight container in your freezer until you're ready to eat it.
Garnish with fresh basil or mint sprigs, if desired.
Enjoy!
~Melissa
You may enjoy these related posts: