Print Friendly Version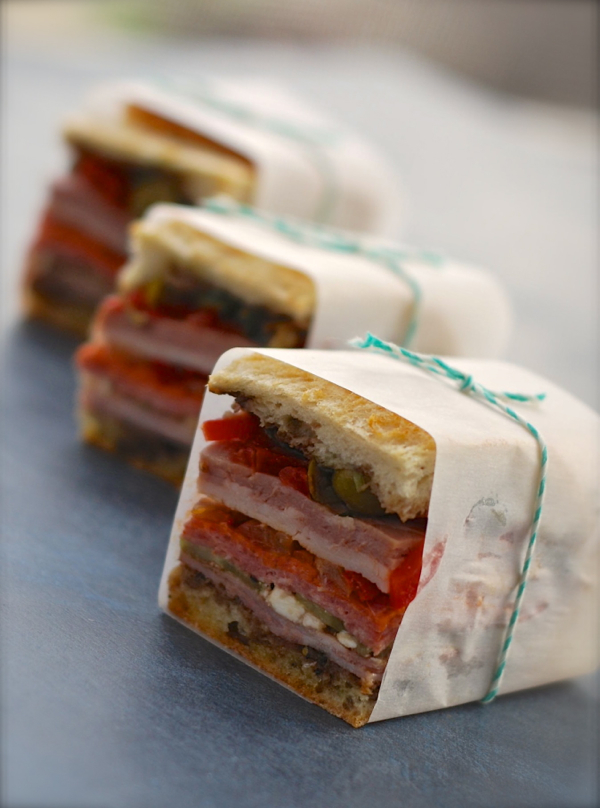 What a fantastic day we had yesterday. It was overcast, but warm and calm. The perfect sort of lazy day to spend lakeside enjoying a picnic with family, and that's exactly what we did. It was so fun to talk, eat, sip wine and just relax.
The day before, I was busy in the kitchen preparing a new version of my Muffuletta sandwiches. These are pretty much the same, with a few differences that made it worth posting a whole new blog entry. I've learned some things since making the muffulettas that I thought you might appreciate knowing if you're looking for the perfect pressed sandwich. They're absolutely lovely for a picnic, camping trip or lunch after a long hike in the woods. They transport quite well, and everyone seems to love them. I made two big sandwiches for 6 people, and we had leftovers. One 3 inch slice is pretty filling, but count on two slices per person, just to be safe. We Italians are always cooking enough for an army because it so much better to have waaaaay too much than not enough, right? 😉 These are words I live by. Hee hee… You'll want to prepare these beauties the day before you serve them so they have time to flatten and all of the beautiful flavors have a chance to marry.
for two large, pressed sandwiches (serves 6 to 8 people)
2 round loaves crusty sourdough OR 2 crusty, white artisan Italian loaves
3/4 cup simple Italian balasmic vinaigrette (recipe below)
1/3 lb. prosciutto or ham, thinly sliced
3 oz. crumbled feta
1/2 peeled cucumber, thinly sliced
1/4 lb. sopressata salami, thinly sliced
1/4 lb. pepperoni, thinly sliced
2 fire roasted red peppers cut into strips
1/3 cup caramelized onion
1/3 lb. smoked turkey breast, thinly sliced
1/3 lb. roast beef, thinly sliced
1/2 lb. pancetta or bacon, fried, cooled and crumbled
3 Roma tomatoes, seeds removed and thinly sliced
1/3 cup green olives with pimento, chopped or sliced
a couple handfuls fresh basil and oregano leaves
1/3 cup purple onion, very thinly sliced
Oritz jarred anchovies, or other GOOD quality anchovies, (optional)
for the Italian vinaigrette:
1/2 cup unfiltered extra virgin olive oil
1/4 cup balsamic vinegar (the best you can find)
1 Tablespoon sugar
1 heaping Tablespoon dry Italian seasoning
4 large garlic cloves, minced
1/4 cup parmesan cheese
sea salt and freshly ground pepper to taste
Combine all dressing ingredients in a bowl and mix well with a wire whisk. Set aside.
Carefully cut the tops off of the loaves of bread, approximately a third of the way down, so there are still walls on the sides of the loaf (you're creating a bread bowl.) Hollow out the loaves, taking care to leave a 1/2 inch wall so it will be strong enough to hold the fillings. You want to use loaves that are soft on the inside and very crusty on the outside. This will keep them from getting soggy and falling apart when it comes time to cut and serve them. If for some reason you can't find a round loaf or oblong, oval loaves as indicated, Ciabatta bread will work. You don't need to hollow out the Ciabatta. Just split, fill and flatten as directed in this post. I like using loaves that need to be hollowed out because the presentation in much more dramatic. 🙂
Now that your loaves are hollowed out as directed, Take about 2 Tablespoons of the vinaigrette and rub it all along the inside of the bread "bowls" so they're completely coated. Now begin stacking the ingredients in this order, pressing down the fillings as you go and just using one layer of each ingredient: ham, feta, cucumber, a drizzle of vinaigrette, salami, pepperoni, roasted pepper strips, caramelized onions, turkey, roast beef, pancetta/bacon, tomato, green olives, fresh basil & oregano, purple onion and optional anchovies. Coat the remaining "bread caps" with the remaining vinaigrette (just on the inside part.) Top the sandwich loaves with the bread caps and gently press down. Wrap the sandwiches tightly with saran wrap, using lots so they're completely covered and snug. Place the wrapped sandwich loaves on a big cookie sheet and place something heavy on top of each loaf. Clean bricks work. I use the lids to my cast iron pots. Again, gently press down on the loaves to flatten. Now clear out a spot in your refrigerator so you can put the cookie sheet, loaves and weights on a shelf and let them chill overnight.
If you're transporting these for a picnic just remove them from the fridge after their overnight pressing session, keep them wrapped in the saran wrap, and place them in extra large ziploc bags. Seal the ziplocs and place them in an insulated bag with freezer packs. This is better than transporting them in a cooler on ice because you don't want to risk getting them wet.
To serve: Remove the sandwich loaves from saran wrap. Slice into 3-inch slices and serve. Or, if you want to be fancy schmancy, cut those 3 inch slices in half again, wrap them each in a strip of cooking parchment, secure parchment with a little piece of butcher tape, and tie a piece of baker's twine around each sandwich. (As seen in the top photo.) Otherwise they look like this, which is still definitely pretty…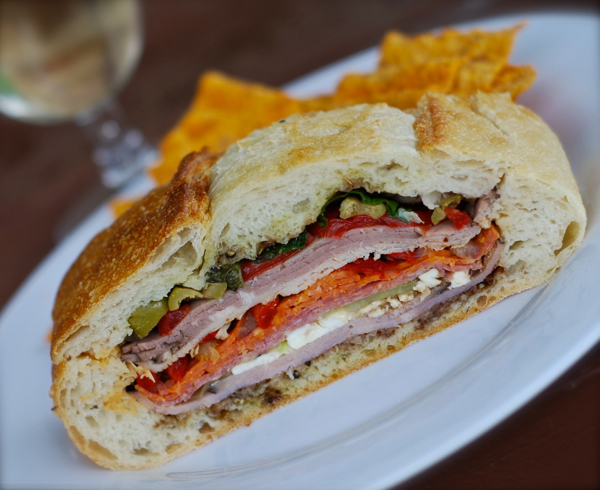 Serve with pepproncini, your favorite chips and a glass of dry white wine.
Enjoy!
~Melissa
You may enjoy these related posts: