Print Friendly Version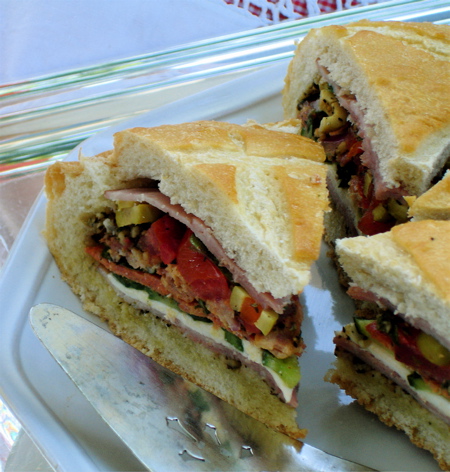 ~muffuletta~
Yesterday was one of those days that was perfect for a picnic so I decided to get up early and make a muffuletta sandwich. This is an Italian delicacy that actually originated in New Orleans at a little place called Central Grocery. They have a specific way of making the sandwich, but as you can probably imagine, there are a lot of different versions out there. This is a fun recipe to play with and adjust to your tastes. A muffuletta is a lovely take-along sandwich. Pack one in a cooler and bring it to the beach, on a road trip or a camping trip…or do what we did…Set up a picnic scene under a big oak tree in the dappled light, sip wine, read some poetry and take a nap on a mooshy quilt.
To assemble muffuletta:
Buy a large Tuscan boule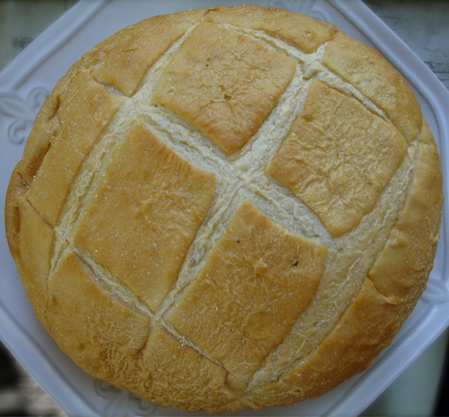 and hollow it out so a 1/2 inch wall of bread remains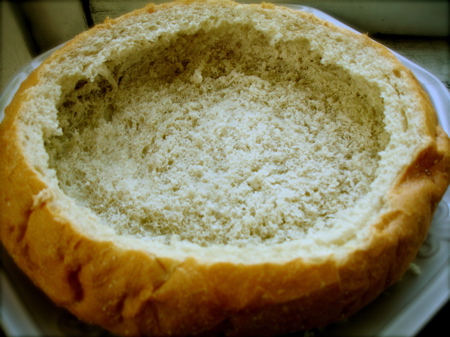 brush the inside liberally with balsamic vinaigrette
a couple minced cloves of garlic
and sprinkle with salt and pepper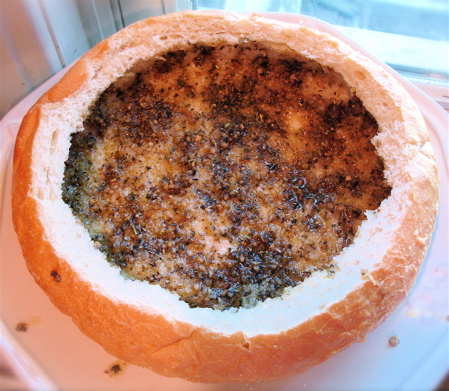 layer smoked ham or proscuitto…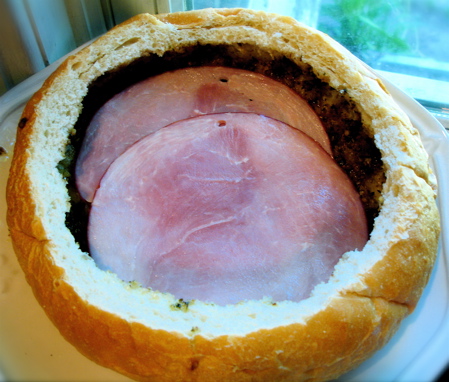 fresh buffalo mozzarella…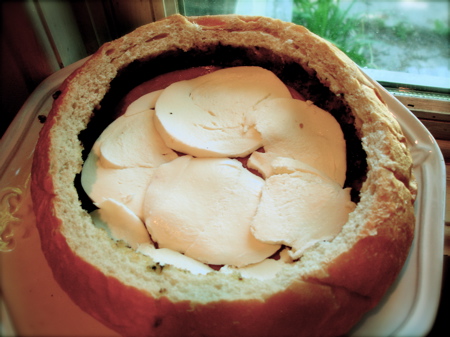 thinly sliced hothouse cucumbers and another drizzle of vinaigrette…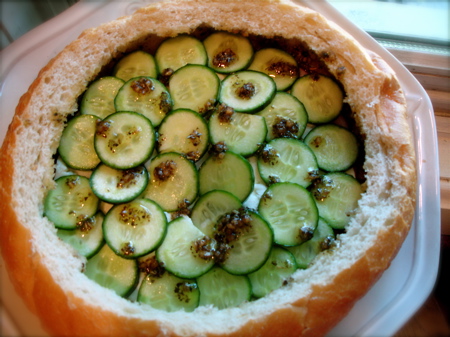 pepperoni and/or capicola, mortadella and salami…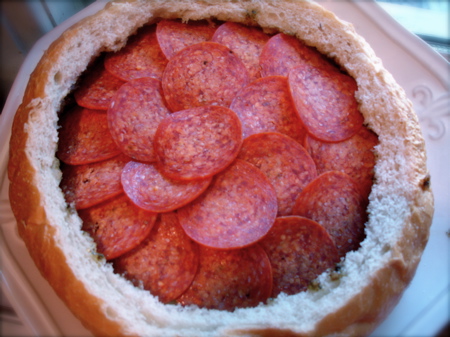 fresh basil leaves…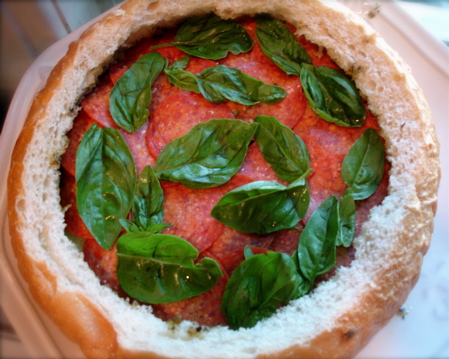 fried bacon or pancetta, crumbled…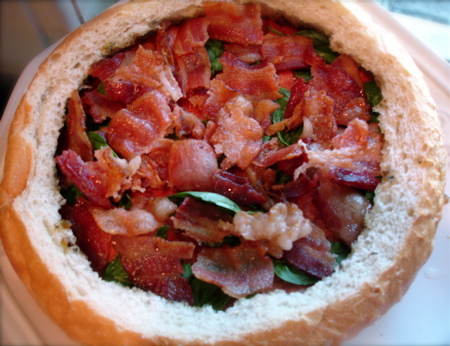 purple onion…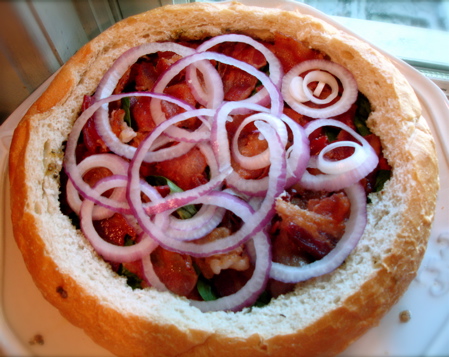 roasted red pepper, roma tomato, fresh oregano and thyme…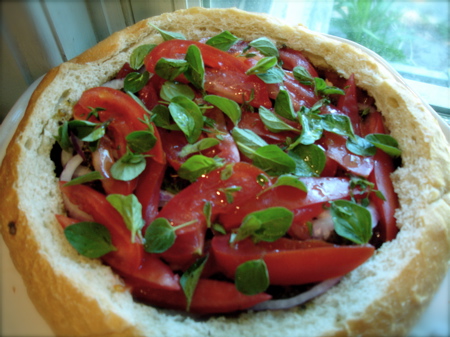 sliced green olives or olive salad, more vinaigrette, salt & pepper…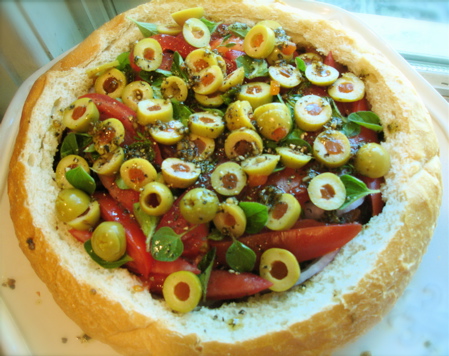 more smoked ham or proscuitto…
press down to compact ingredients…top with bread "cap"…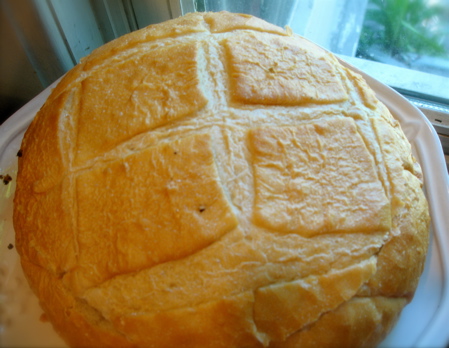 press down again. wrap tightly in plastic wrap…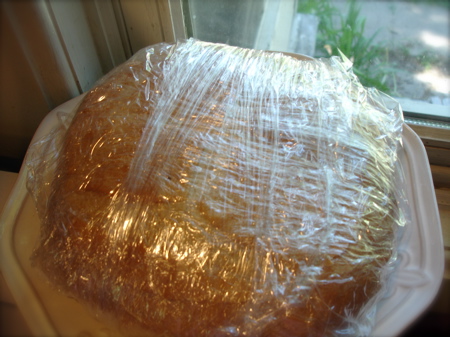 place on a plate and weigh down with the lid of a cast iron dutch oven
(or something heavy.)
Chill in refrigerator for at least 3 hours or overnight.
Enjoy!
~Melissa
You may enjoy these related posts: