Print Friendly Version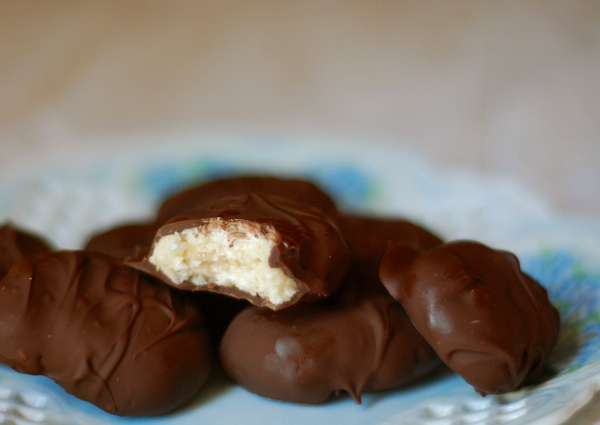 Calling all coconut fans! Here's a dessert that you can enjoy without the guilt. There are so many health benefits when you enjoy (soy free) dark chocolate, raw honey, and coconut oil. I've seen lots of recipes for "copycat" Mounds and Almond Joy bars that include sweetened condensed milk (which contains tons of refined sugar.) This is not that recipe.
Not only are these healthy, they're easy to prepare and totally delicious. The first time I made them my daughter and I took our first bite and looked at each other, wide eyed. Where had these little gems been all our lives?
Double or triple the recipe if you like. These will keep, in your fridge, in an airtight container, for two weeks.
for approximately 10 candies:
1 cup shredded, unsweetened, organic coconut
3 level Tablespoons organic, cold pressed, coconut oil
2 Tablespoons organic, raw, unfiltered honey
1 teaspoon pure, organic, vanilla extract
1/8 teaspoon pink Himalayan sea salt
4 to 5 oz. semi sweet chocolate chips (I use Enjoy Life)
Place coconut, coconut oil, honey, vanilla, and salt in the bowl of a food processor. Pulse to form a thick paste. It should ball up easily and be slightly wet.
Using a Tablespoon so you get uniform candies, scoop out some of the mixture. Drop onto a parchment-lined cookie sheet (that will fit in your freezer.) Mold each mound into a rounded off rectangle. Freeze for 30 minutes, or until solid.
A couple minutes before the coconut is done freezing, melt your chocolate. Take frozen bars out of the freezer. Using two toothpicks, flip the coconut pieces, one at a time in the melted chocolate until completely coated. (If you're making Almond Joys, press a whole almond into the coconut pieces before coating with chocolate.) Use toothpicks to transfer them from the chocolate to the parchment-lined cookie sheet again. Repeat with all coconut pieces. Return to freezer and freeze just until chocolate is set (approximately 10 minutes.) Store candies in refrigerator, in airtight container. Serve cold or at room temperature.
Enjoy!
~Melissa
You may enjoy these related posts: