Print Friendly Version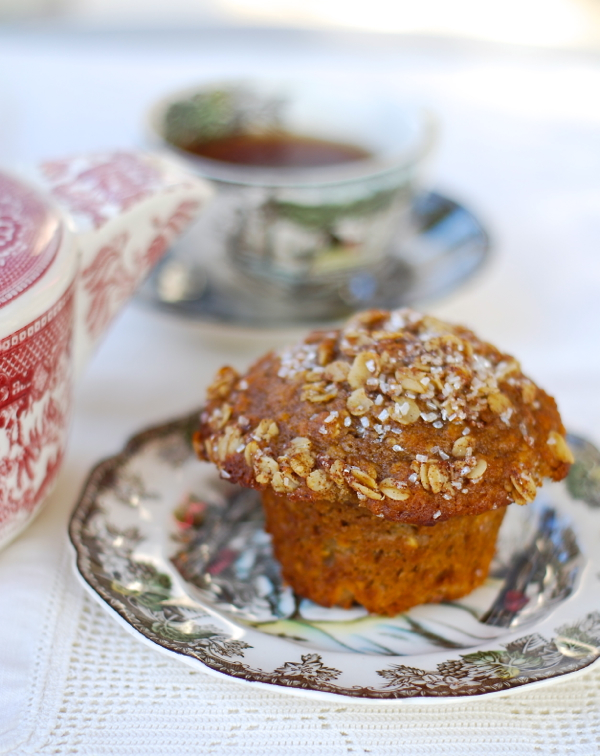 Such pretty, sunny, dappled days here in the Mississippi River Valley. This last week-or-so has been especially lovely. I figured out how to crochet a ripple, which makes me happy. I'm thinking about busting out all of the ends of my old skeins and making one big afghan. Jeff warned me not to start crochetting granny blankets with clashing colors…and although I use to wonder what possessed some people to put burnt orange next to olive green…I can see where they were coming from now. They were trying to use up their yarn stash before going out to buy more. We may just end up with a granny blanket yet.
About those muffins… Oh my gosh…can I just say, I am in LOVE with these new pans I've been using? I've partnered with a company called Demarle at Home to create some fun, interesting recipes using their products. Last night I got a bee in my bonnet to make some muffins for thismorning's breakfast using my homemade apple butter as an ingredient. I used the big muffin pan and I couldn't believe how beautiful the muffins turned out. And would you believe you don't have to butter or flour the pans before you fill them with whatever you're cooking? I will never use a regular muffin pan again. I'm making a batch of savory muffins today, and I'll take some shots of the pan so you can see what I'm talking about.
Anyway, it's really nice outside, so I'll be heading out for a walk soon. I just had to share this yummy recipe with you first. You can use regular, old fashioned, rolled oats in this recipe if you don't have quick-cooking, but the muffins come out much chewier. Still good tho.
If you're using a regular muffin pan, butter generously. Preheat oven to 400 degrees F.
combine the following ingredients in a big mixing bowl:
1 and 1/2 cups quick-cooking oats
1 cup all-purpose flour
1/4 cup whole wheat flour
1 teaspoon baking powder
3/4 teaspoon baking soda
mix well. then add:
1 cup apple butter
1/2 cup milk
1 Tablespoon apple cider vinegar
1/2 cup sugar
1 Tablespoon molasses
1 Tablespoon oil
1 egg
1 teaspoon pure vanilla extract
mix until just moist
topping:
1/4 cup old fashioned rolled oats
1 Tablespoon coarse, finishing sugar
1/2 teaspoon cinnamon
2 Tablespoons butter, melted
Fill 8 large muffin cups with batter. Combine topping ingredients and top each muffin with some of the mixture. You should use up all the topping.  Sprinkle with a little extra finishing sugar so the muffins sparkle when they're done. Bake fo 15-20 minutes or until a wooden skewer comes clean when inserted in center of a muffin. Cool in pan for 5-10 minutes before releasing from pan.
Enjoy!
~Melissa
You may enjoy these related posts: