Print Friendly Version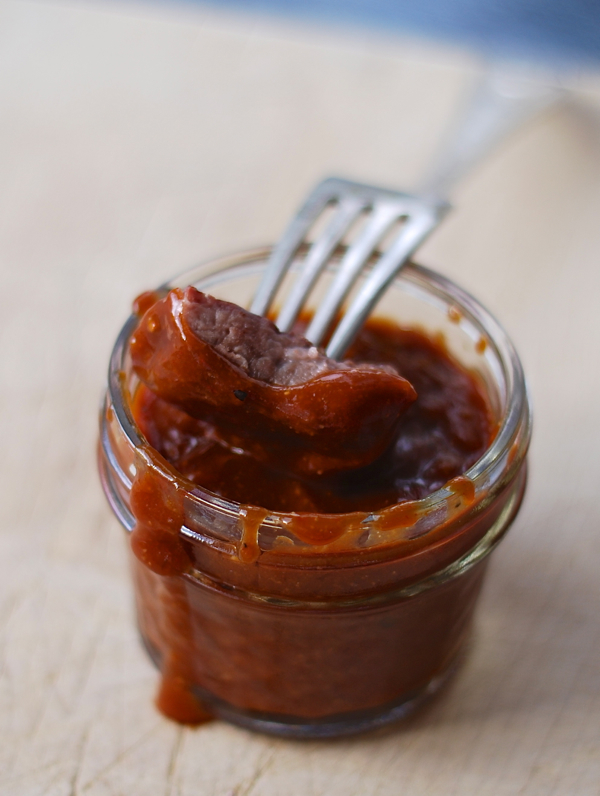 Do you like steak sauce on your steaks? I know some people think it ruins the steak and won't touch it with a ten foot pole…and then there are other people who put ketchup on fillet mignon…which I think is a little nuts, but, hey, to each their own. I happen to LOVE gobs of steak sauce. Especially on porter house, and strip steak. I use to buy Heinz 57. I don't really like A1. Well, except on grilled hamburgers, but that's a different story.
We were out of Heinz 57 the last time we grilled steaks so I decided to create my own version of the classic. Let me just say, it's WAY better than the bottled stuff. I made mine more garlicy and spicy. Truly, a new condiment has been born. Hold on to your hat.
for approximately 4 oz. steak sauce you'll need:
1/4 cup ketchup
3 teaspoons yellow mustard
4 Tablespoons Worcestershire sauce
2 teaspoons malt vinegar
3 teaspoons Sriracha hot sauce
1 big clove garlic, minced
1 teaspoon salt
1 teaspoon onion powder
2 teaspoons soy sauce
1 teaspoon freshly ground black pepper
1/4 teaspoon paprika
Place all in a medium size canning jar. Cover tightly with lid, and shake vigorously until all ingredients are mixed completely and evenly. Will keep in the refrigerator for a month. If you'd like to give this as gifts, just double or triple the recipe as needed and pack into little 4 oz. canning jars.
Enjoy!
~Melissa
You may enjoy these related posts: