Print Friendly Version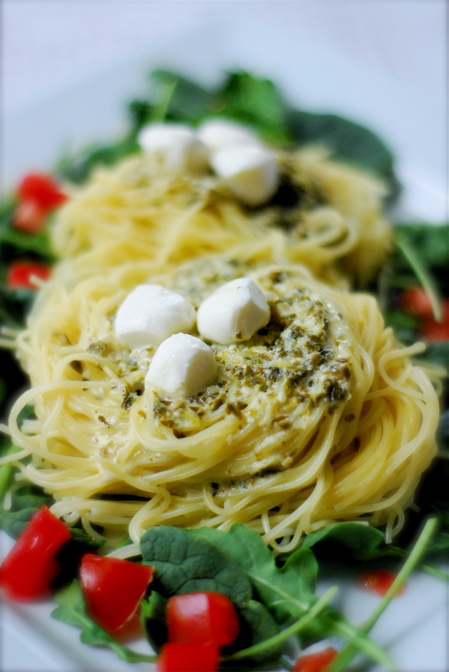 ~ love nests ~
Have you ever made pasta nests? You can either buy them in nest form, or you can get creative with a pasta fork and twirl them up yourself! It takes a little practice, but it's really quite easy, and the presentation is so pretty.
serves 3
6 pasta nests (I used Colavita angel hair nests)
spinach and arugula salad greens
chopped Roma tomatoes
1 large lemon
1/4 cup extra virgin olive oil
1/3 cup freshly grated Parmesan cheese
a handful of fresh herbs (I used parsley, basil, oregano and thyme)
1 and 1/2 cups heavy cream
splash of white wine
freshly ground pepper
salt
extra Parmesan cheese for sprinkling
fresh mozzarella pearls
Cook pasta nests according to package directions. Drain well and place on beds of arugula/spinach salad greens and chopped Roma tomatoes. You will have to reform the nests a bit. In the bowl of a food processor, combine the juice and zest of large lemon, olive oil, Parmesan cheese and fresh herbs. Blend until smooth, adding a little more olive oil if necessary. Place the herb mixture in a saucepan along with the cream and wine. Cook over medium heat, stirring with a wire whisk constantly until the mixture has thickened a little and reduced somewhat. Pour over the pasta nests. Top nests with little pearl mozzarella balls and a sprinkle fresh Parmesan, salt and pepper.
Enjoy!
~Melissa
You may enjoy these related posts: