Print Friendly Version
"There is nothing in the world more beautiful than the forest clothed to its very hollows in snow. It is the still ecstasy of nature, wherein every spray, every blade of grass, every spire of reed, every intricacy of twig, is clad with radiance." ~William Sharp
When I was younger my little brothers and I loved to play out in the freshly fallen snow. We watched the grey winter sky, eagerly awaiting the fluffy flakes so we could make snow igloos with our snow block maker, snow men, snow angels and snow ice cream! Our aunt Bobbie was actually the one who introduced the idea of snow ice cream to us. Back then we simply added milk and maple syrup to dishes of fresh snow. Yummy!
I found a cute little book called "Cracked Corn & Snow Ice Cream," by Nancy Willard, while perusing the aisles of Barnes & Noble a few years back, and decided to rekindle the snow ice cream tradition. Since then Grace has become an enthusiastic fan. There are some other great recipes in this book too…some of my favorites: Raspberry Shrub, Corn Pudding, and Potato Latkes.
We've replaced the maple syrup with chocolate syrup, and the milk with sweetened condensed milk OR a little cream/ half and half. We top it off with Marischino cherries and sprinkles too.  Nancy Willard's recipe calls for evaporated milk, which I have never tried, but I suppose it would work just as well. We serve ours in tulip cups with sundae spoons 🙂
Here's a picture of Gracie enjoying her snow ice cream on a snowy day a couple weeks ago…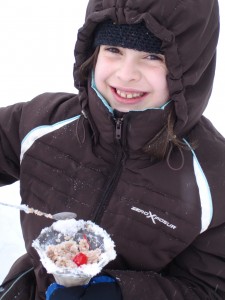 and a picture of the ingredients we used….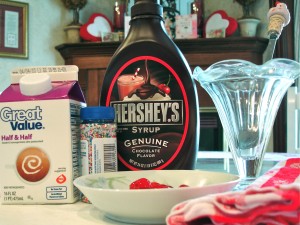 Recipe:
Take 8 to 9 cups of freshly fallen snow and mix it with one can of sweetened condensed milk. or 4 0z. cream and 1 teaspoon vanilla. Mix really well…top with chocolate syrup and any other toppings that you like.
Happy Snow!
~Melissa
You may enjoy these related posts: