Print Friendly Version
"It's spring fever.  That is what the name of it is.  And when you've got it, you want – oh, you don't quite know what it is you do want, but it just fairly makes your heart ache, you want it so!"  ~Mark Twain
Spring is just around the corner and I've been going for more walks outside in lieu of working out. This time of year, when I'm most anticipating the buds on the crab apple trees and the green grass, I start dreaming about wearing my blue and white gingham blouse, 'flowy' white pants and sandals. I also start wearing lighter perfume scents. In a recent post I wrote about "Miss Dior Cherie" by Christian Dior. This perfume definitely fits into the 'dreaming of spring' category.
Here's another of my absolute favorites… Lollia "Wish" Sugared Pastille… lollialife.com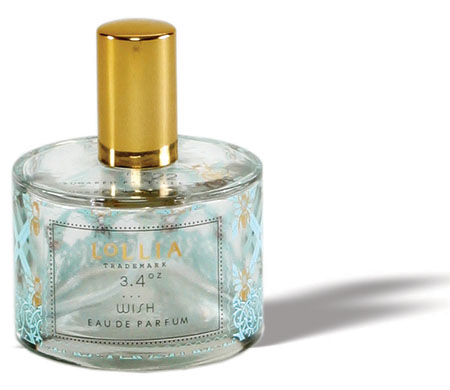 Key ingredients:
A Burst of Italian Bergamot, notes of Cinnamon and Pepper, Rice Flower, Jasmine and Ylang Ylang, sheer Amber Woods and Vanilla Bean.
Design Details:
Bees made with Real Gold leafing with blue accents are silk screened on a cylinder shaped glass perfume bottle.
Before you start your spring cleaning, treat yourself to a beautiful spring scent for inspiration…and maybe a new shade of pink lipstick!
xo,
Melissa
You may enjoy these related posts: