Print Friendly Version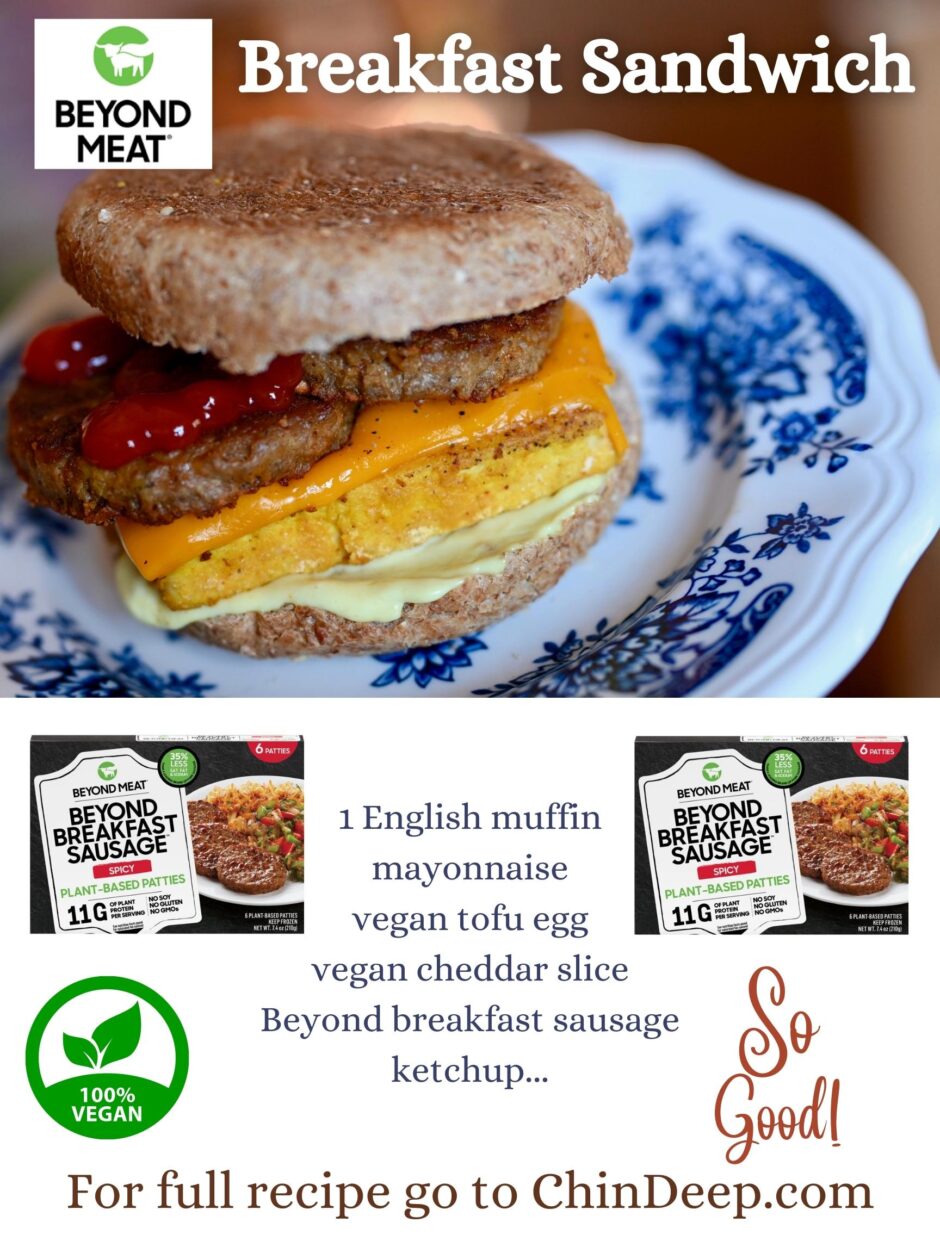 Breakfast sandwiches are so great for busy mornings, and the ingredients for this one are easy to make in advance. Much like these vegan biscuit & sausage breakfast sandwiches, I make all the ingredients, store them in Ziplocs in the refrigerator, and heat them up in the microwave just prior to eating. A little prep in the kitchen will go a long way and you can have a hearty, high protein, delicious breakfast every day!
Follow the link above for making the tofu egg, fry up the Beyond breakfast sausage patties according to package directions, and you're in business!
~ For one Beyond Meat Breakfast Sandwich ~
One vegan English muffin, bagel, or croissant
Vegenaise or Vegan Kewpie Mayonnaise
Vegan tofu egg slice OR Just Egg (cooked according to package directions)
A slice of your favorite vegan cheddar cheese (I love So Delicious brand or Violife)
2 Beyond Meat breakfast sausage patties (cooked according to package directions)
ketchup
Make up your tofu egg slices and set aside. Make the Beyond Meat sausage according to package directions and set aside. Place in air tight containers or Ziplocs and refrigerate if you're not going to make sandwiches right away.
When you're ready to enjoy a sandwich: Toast your English muffin (or bread of your choosing,) place the bottom slice of bread on a plate. Top with your favorite vegan mayonnaise. Heat one of the tofu egg slices in the microwave until warm. Place a slice of vegan cheddar on top of it, and heat a few more seconds, or just until the cheese is melted. Place vegan tofu egg on top of the mayonnaise. Place your Beyond Meat on top of the cheese (reheat sausage if needed,) top with ketchup and top half of your English muffin. Serve.
Enjoy!
~Melissa
You may enjoy these related posts: