Print Friendly Version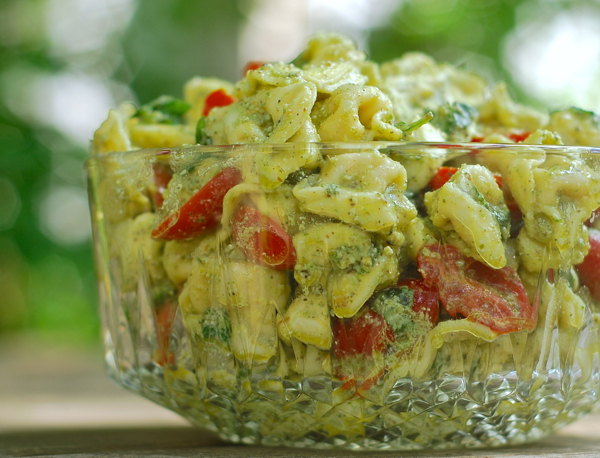 After our long, relaxing, Memorial Day weekend I'm ready to share some new recipes! Here's one we enjoyed yesterday as part of our picnic lunch. It turned out truly sensational. It's a combination of traditional caprese salad and tender, cheesy tortellini. My favorite part is the amazing, thick pesto dressing. Seriously addictive and soooo delicious!
1 lb. cheese tortellini (I used Buitoni's 3 Cheese)
8 oz. cherry-size, fresh Mozzarella balls, quartered (or regular, fresh Mozzarella, cubed.)
1 pint grape or cherry tomatoes, halved
1 oz. fresh basil (one large handful), chopped
fresh pesto dressing (recipe below)
Cook tortellini according to package directions for al dente pasta. Don't over cook it, you want it to be tender and firm. Once cooked, drain and rinse with cold water until pasta is cold. Drain well and place in a large mixing bowl. Add the Mozzarella, tomatoes and chopped basil. Toss with all of the dressing. Cover and refrigerate until ready to serve.
pesto dressing:
1 oz. fresh basil leaves (I large handful)
1 cup extra virgin olive oil
4 Tablespoons white vinegar
1 Tablespoon dry Italian seasoning
1 Tablespoon dry oregano leaves
1 teaspoon freshly ground pepper
1/2 cup Parmesan cheese
1 Tablespoon sugar
2 to 3 large cloves garlic, chopped
Place all dressing ingredients in the bowl of a blender. Pulse until smooth. Toss with pasta salad.
Enjoy!
~Melissa
You may enjoy these related posts: