Print Friendly Version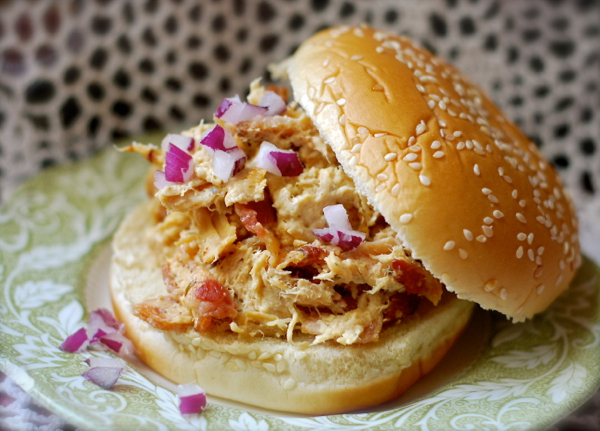 Otherwise known as "crack" chicken… (That name bugs me. Not. Gonna. Lie.) This stuff is cream-cheesy, bacony goodness on a bun! These are so easy to prepare, and we love them for game day. As the original name suggests, they're hard to stop eating once you start, so plan accordingly.
These tasty little sandwiches are absolutely amazing with or without the addition of cheddar, onions, and hot sauce. Next time I'm going to try adding chopped jalapeno peppers! Yum.
serves 4 to 6 (or 12 to 15 mini sliders)

2 lb. boneless skinless chicken breasts
16 oz. cream cheese
1 to 2 packets Hidden Valley Ranch mix powder (or homemade ranch powder)
1/2 teaspoon garlic powder
1/4 teaspoon freshly ground black pepper
1 lb. bacon, fried until crispy and crumbled
shredded cheddar cheese (optional)
chopped purple onion (optional)
hot sauce, to taste (optional)
your favorite hamburger buns or slider buns
Place chicken breasts, cream cheese, ranch powder, garlic powder, and pepper, in the bowl of a 4 to 8 quart slow cooker. Cover and cook on LOW for 6 to 8 hours or HIGH for 3 to 4 hours (or just until the chicken shreds easily with a fork.)
When chicken is done, shred it and add the crumbled bacon. Mix well. Scoop onto buns. Top with some shredded cheddar cheese, purple onion, and hot sauce (if using.)
Enjoy!
~Melissa
You may enjoy these related posts: