Print Friendly Version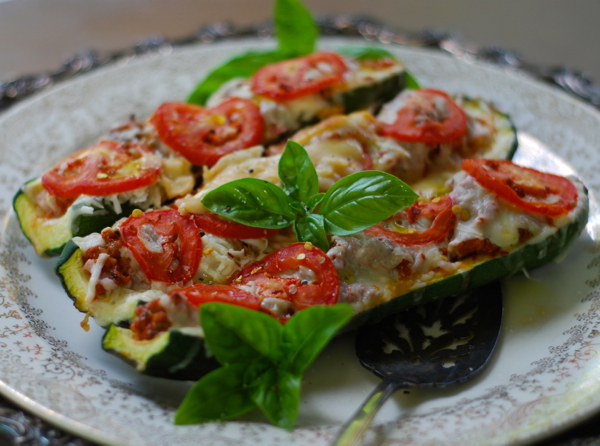 We've been eating our body weight in fresh veggies these days. Between the little farm stands all over the neighborhoods in Red Wing, and the downtown Farmer's Market (that we are fortunate to be able to visit every day, and not just on the weekends) we've been enjoying the freshest, most wonderful produce imaginable. YUM.
There's a really cool hippie chick that lives a few blocks away from us. Whenever I see her, she's barefoot, and sitting on a lawn chair in her front yard, reading a magazine or book. She's really tan and says "far out" a lot. She always offers me a handful of cherry tomatoes "on the house" to munch on while I shop, and she smiles as she pours them into my hand. She's awesome.  I was out on a bike ride a few mornings ago and saw that she had her garden table set up in her front yard under a big maple tree. The table was heavy with tomatoes, zucchinis, cucumbers, crook-neck squash, peppers of all kinds, beans, baby potatoes and corn. I decided to get some of the zucchini to make these pizza style zucchini boats. What a fantastic, easy dinner this was. Healthy, low-carb deliciousness.
serves 3 to 6 people
preheat oven to 350 degrees F.
3 medium zucchinis
1 lb. lean ground pork
12 oz. marinara sauce
1 Tablespoon Sriracha hot sauce
2 Tablespoons fennel seeds
2 teaspoons fresh garlic, minced (or garlic powder)
2 teaspoons onion powder
2 teaspoons Lawry's seasoned salt
2 teaspoons black pepper
8 oz mozzarella or Monterey jack cheese, grated
1/2 cup freshly grated Asiago or Romano cheese
3 Roma tomatoes, sliced thin
fresh basil, chopped
extra virgin olive oil for drizzling
Cut the zucchinis in half, lengthwise. Scoop out the flesh, and coarsely chop, leaving a 1/4 inch wall so the zucchini shells can support the filling while baking. Place the chopped flesh in a nonstick skillet along with the ground pork. Saute until the pork is browned, and the zucchini is tender and has released it's juice. Drain the pork/zucchini mixture very well. Return this mixture to the skillet and add the marinara, Sriracha, fennel, garlic, onion, seasoned salt and pepper. Cook until everything is heated through. Mix well.
Place the zucchini shells on a jellyroll pan or a large baking pan with a lip. Fill the shells with the pork mixture and arrange the filled shells so they are as flat as possible.
Place in the preheated, 350 degree F. oven to bake for 20 minutes. Remove from oven and top with the Mozzarella, then the Asiago, and finally the tomato slices. Return the zucchini boats to the oven to bake for an additional 10 minutes or until completely heated through and the cheese is melted and bubbling.
Plate the zucchini boats and top with fresh, chopped basil, coarse sea salt and pepper to taste, and a drizzle of extra virgin olive oil. Serve immediately.
Enjoy!
~Melissa
You may enjoy these related posts: