Print Friendly Version
"Weekends don't count unless you spend them doing something completely pointless."  ~Bill Watterson
John Mayer is singing in the background and I'm sipping a glass of iced sun tea. Aahhh, I love a lazy Sunday Morning. I wasn't quite sure what to write about this morning, and then decided to tell you about our fun three day weekend. We actually did a lot, but somehow it still felt relaxing.
On Friday we strolled up to the library to return some books on CD (Jeff has been on a Vince Flynn kick lately…) and I checked out a great entertaining book that I think I'll end up buying because it's full of ways to keep get-togethers simple, which I just love, especially in the warmer months when I want to spend minimal time in the kitchen. Matthew Mead's "Entertaining Simple," is just the ticket for those who want to entertain simply, frugally and elegantly.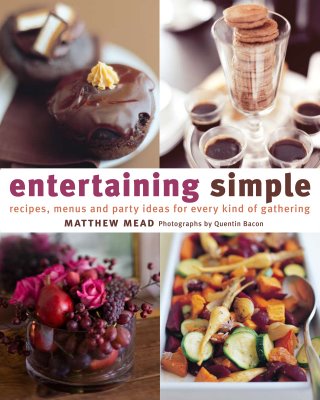 Jeff surprised me with a little bottle of Lollia's "Imagine" perfume from "Moments on Main Giftshop" in Red Wing…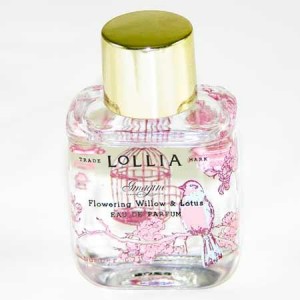 Here's the perfume description. I just LOVE it!
A floral fragrance impression of the most beautiful day imaginable. Flowering Willow & Lotus float in, then flutter away…a trace of Orchid on their wings. Breezy Rice Flower and warm Coconut Milk mix with dew drop notes of Mandarin & Jasmine petals. Not a cloud in sight: a sun dappled, sophisticated scent.
Design Details:
Our Lollia signature screened glass bottle with Margot Elena's prettiest pattern yet: Imagine peeking through a window Chinoiserie bird & branch on front, blossoms fully wrap and fancifully view-through to an opened bird cage on back.

When we got home I made a simple, yummy salad that is so good for you and easy to prepare, I'll quickly give you the recipe and let you just imagine how pretty it is 🙂
Black Bean, Corn and Fire Roasted Tomato Salad~
In a large bowl, combine:
1 (14.5 oz.) can organic black beans, drained and rinsed
1 (14.5 oz.) can organic, sweet corn, drained
1 (14.5 oz.) can  Muir Glen organic fire roasted, diced tomatoes, undrained
1/2  green bell pepper, chopped
3 scallions, chopped
1/4 cup extra virgin olive oil
generous splash of balsamic vinegar
1 teaspoon sweet curry powder
1 teaspoon dried, or 2 Tablespoons fresh, chopped parsley
salt, freshly ground pepper, and cayenne pepper to taste
Place fresh spinach leaves in 4-6 large salad bowls, distribute black bean mixture evenly among bowls, and top with baked or grilled chicken breast strips if you like. Drizzle your favorite dressing over the top. Serve with crusty baguette and a bottle of gewurztraminer…mmm…
On Saturday we listened to the "500 Days of Summer" soundtrack on our way to Stockholm Wisconsin. I can't tell you how much I love this CD…so, so, soooo good! Take a listen.
We had lunch at the Stockholm Pie Company which serves savory pies as well as sweet ones. We shared an "Apple, Sausage, Cheddar" pie and Gracie had a "Salted Nut Roll" ice cream cone. YUM!
I saw a bottle of this adorable wine at "The Palate" in Stockholm…I have to buy a bottle. Even if I never drink it, wouldn't this bottle look cute sitting on a pantry shelf? I'm sure I'll try it at some point and tell you what I think.

We had a bonfire when we got home, sipped some wine, and of course Jeff did some grilling… I worked on a wreath for our mantle…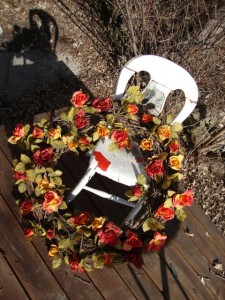 I think I"ll put it away until autumn though. This isn't quite right with my spring/summer palette…
We picked up a copy of "New Moon" and watched it last night! Have you gotten your copy yet? I'm thinking about watching it again today…hee hee…I know, I'm a little obsessed 🙂
Today I'm cleaning up the house a little, doing some writing, and reading a book that definitely falls in the "brain candy" category. It's "Morrigan's Cross" by Norah Roberts and is the first book in a series called The Circle Trilogy. I'm really enjoying it so far.
How did you spend this beautiful weekend?
~Melissa
You may enjoy these related posts: