Print Friendly Version
"Come, sit thee down upon this flowery bed." Shakespeare's Titania in A Midsummer Night's Dream
There is nothing quite like the scent of lavender for relaxation. I have been making lavender linen spray for years, as well as using Mrs. Meyer's Clean Day lavender scented laundry detergent and fabric softener.
Recently Jeff and I have started using the Mrs. Meyer's lavender room freshener around our home and we love it. It smells like lavender, oranges and a little like honey. We've discovered that when we use the lavender spray before bed that we sleep better.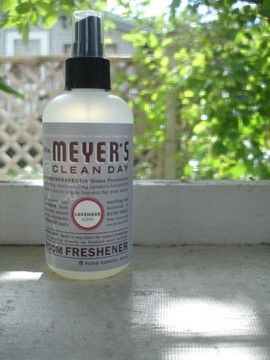 What are your favorite relaxing rituals?
~Melissa
You may enjoy these related posts: