Print Friendly Version
"Italy is a dream that keeps returning for the rest of your life." ~Anna Akhmatova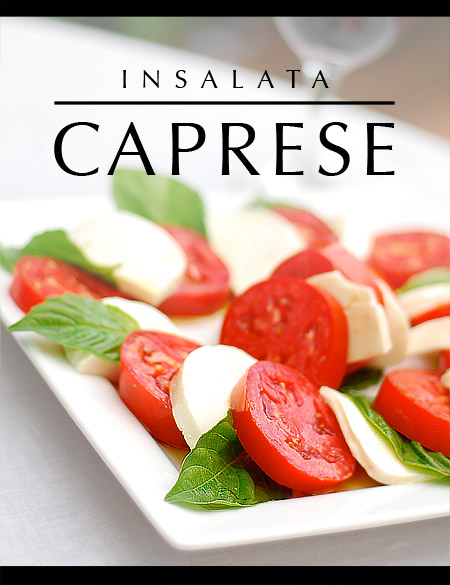 This is our family's favorite Italian salad. A beautiful, simple, healthy summer dish or first course for a more elaborate Italian meal.
Insalata Caprese
6 ripe Roma tomatoes sliced 1/4 inch thick
1 lb. fresh mozzarella cheese sliced 1/4 inch thick
10 large, fresh basil leaves
1/3 cup extra virgin olive oil
2 large garlic cloves
salt and freshly ground black pepper
Heat olive oil in a skillet. Mince garlic and add to oil. Saute until the garlic turns barely golden. Remove from heat and allow to cool completely. Assemble salad by alternating the tomatoes, fresh mozarella, and basil leaves in a swirl pattern on a large plate or serving platter. Sprinkle with salt and fresh pepper. Drizzle the olive oil/garlic mixture over. We like to serve this salad with slices of fresh Italian bread that have been lightly buttered and toasted on a skillet. Just pile the salad on the toast. Yum!
For a simple version of this recipe (no chopping necessary) try…
~Easy Breezy Caprese~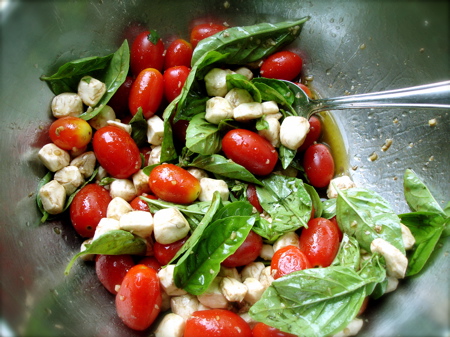 combine:
fresh 'pearl' mozzarella
Italian grape tomatoes
lots of fresh basil
balsamic vinaigrette
unfiltered, extra virgin olive oil
sea salt
fresh ground black pepper
serve with crusty Italian bread
Enjoy!
~Melissa
You may enjoy these related posts: