Print Friendly Version
I absolutely love James Beard's book, Beard on Bread. In my opinion,  it is the definitive bread cook book. I made some of this walnut bread last week and we're already down to the last loaf. It was wonderful with my pork chops, apples & kraut…and made a very interesting, yummy egg-in-a-hole for this morning's breakfast. A friend of mine requested that I post the recipe, and I am never one to ignore a recipe "emergency" Here ya go GF! XO
PS…and Thank You James Beard for being a bread genius. I have a tiny crush on you 😉
"This recipe comes from the delightful cookbook called Good Things by an English writer, Jane Grigson, who has a fine palate and the ability to evoke vivid pictures of food. It makes one of the most attractively flavored and textured breads I have eaten in a long time. If you can't find walnut oil, you can use fruity olive oil. Baked in intriguing, small, round loaves, it is light and has a pleasant crust, delicious 'nose,' and a delicate onion flavor. It is good with broiled or roasted meats, or with some cheeses, notably goat." ~James Beard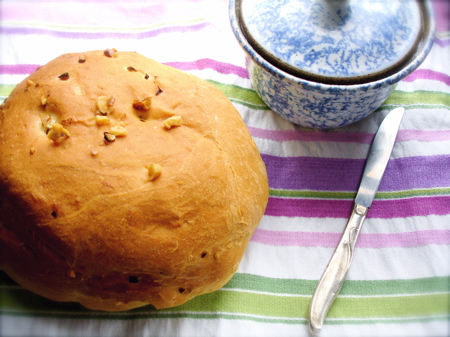 photograph by Melissa Placzek
~Jane Grigson's Walnut Bread from Southern Burgundy~
preheat oven to 400 degrees F.

5 cups all-purpose flour (preferably unbleached, I used King Arthur)
1 Tablespoon salt
2 Tablespoons sugar
2 packages active dry yeast
2 cups warm milk
1/2 cup walnut or extra virgin olive oil
1/2 cup walnuts, roughly chopped
3/4 cup onion, finely chopped
Sift flour, salt and sugar into a big, warm bread bowl. Dissolve the yeast in 1/2 cup of the warm milk. Pour it into the middle of the flour together with the walnut oil (or olive oil) and rest of the milk. Knead well until the dough is firm and blended into a smooth, springy ball (about 10 minutes.) Leave in a warm place to rise, covered with buttered plastic wrap for 2 hours. Punch down, mix in walnuts and onions. Shape into 4 rounds. Leave on a greased baking sheet, covered with the buttered plastic wrap for 45 minutes. Bake at 400 degrees F. for 45 minutes or until the loaves sound hollow when tapped underneath.
Enjoy!
~Melissa
You may enjoy these related posts: