Print Friendly Version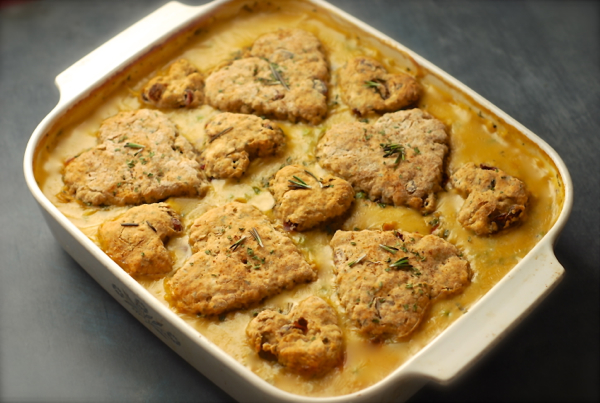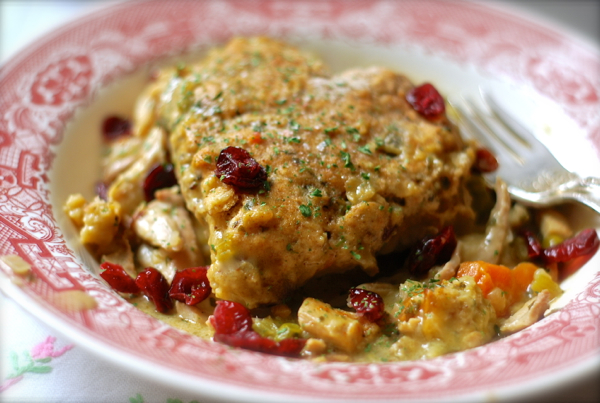 Mmmmm…. Who doesn't love chicken stew and biscuits? This particular recipe includes rosemary and dried cranberries in the buttermilk biscuits. The contrast of flavors is so delicious!
The title for this recipe was inspired by chicken and biscuits that my husband and I enjoyed on our two week October honeymoon road back in trip back in 1995. We spent the first 4 nights at The Anderson House which is the oldest hotel in Minnesota! (We plan on staying there again very soon.) They served this amazing comfort food dish and we were seated at a beautiful table next to a picture window in the front of the restaurant. It was raining that particular evening and all of the leaves on the trees were glowing and beautiful. Our server brought us a carafe of white wine and this delicious meal. This is truly one of my favorite food memories. So romantic!
~ preheat oven to 400 degrees F. ~
for the stew:
1/4 cup butter + 2 Tablespoons olive oil
1 large onion, chopped
3 stalks celery, chopped
4 large carrots, chopped
1/2 cup white wine
1/3 cup flour
32 oz. chicken broth or stock
1/2 cup heavy whipping cream
1/2 cup buttermilk
1 Tablespoon Dijon mustard
1 Tablespoon fresh thyme leaves
2 Tablespoons dry parsley
1/2 teaspoon nutmeg
2 to 3 lb. chicken, cooked completely and cubed
1 cup frozen peas
2 Tablespoons cornstarch + 2 Tablespoons cold water
Heat butter and olive oil in heavy Dutch oven. Add onion, celery and carrots. Saute until tender, adding a little more butter or olive oil, if necessary. Once veggies are tender, deglaze pan with the wine, scraping brown bits from bottom of pan. Sprinkle with flour. Cook, stirring constantly, for 3 minutes. Whisk in broth. Boil gently, whisking constantly, for 2 minutes, or until thick. Stir in cream, buttermilk, mustard, thyme, parsley and nutmeg. Remove from heat. Add chicken and peas. If sauce doesn't seem thick enough, combine cornstarch and water, return to gentle boil and stir in until thickened to your liking.
Butter a 9×13 baking pan. Pour stew into pan. Prepare biscuits…
for the biscuits:
1 cup all purpose flour
1/2 cup whole wheat flour
1/2 cup old fashioned rolled oats
1 Tablespoon baking powder
1 Tablespoon sugar
1/2 teaspoon sea salt
1/2 teaspoon black pepper
4 Tablespoons butter, cut into small pieces
3/4 cup buttermilk
2 Tablespoons finely chopped, fresh rosemary
1 cup dried cranberries, divided
Place flours, rolled oats, baking powder, sugar, salt and pepper in a large mixing bowl. Add butter, and using hands, work butter into dry mixture until you have a coarse, crumb mixture. Add buttermilk, rosemary and 3/4 cup of the cranberries. Mix gently until all ingredients are evenly distributed. Turn out onto floured surface. Using floured hands, gently pat dough into a 1/2 inch disc. Cut out biscuits using a biscuit cutter, until you use all the dough. Place biscuits on top of stew in pan. Bake on lowest rack in oven for 35 to 40 minutes or until stew is bubbly and biscuits are a light golden brown. Allow chicken and biscuits to stand at room temperature for 15 minutes prior to serving. Garnish each serving with more fresh rosemary and reserved cranberries.
Enjoy!
~Melissa
You may enjoy these related posts: